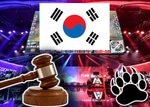 The video game tournaments known as eSports have enjoyed a fair amount of the spotlight recently as the gamers along with the organisers involved, have looked to shift public perception from a hobby played indoors at home to that of a serious money making enterprise, played out in public arenas around the globe.
Online betting companies have duly paid attention and some of the larger sportsbooks now offer odds on these competitions, however it has recently been reported that two eSports champions from Korea have been charged with fixing matches, after allegedly receiving large amounts of cash to deliberately throw two games in May 2015.
Champions Offered More To Lose Than To Win
South Korea has already currently charged 10 people in connection with the allegations, and these also include champion players who regularly participate in the Global Starcraft League games. According to a BBC News report, one of the champion players from the Global Starcraft League game Lee "Life" Seung Hyun, has been accused of throwing games.
Match fixing charges have resulted from prosecutors uncovering evidence he was paid 70 million won, almost CAD $80,000 to deliberately throw games last year. Another top pro-game player 23 year old Jung "Bbyong" Woo Yong, was also indicted for receiving 30 million won, to lose this year's January 2016 big match.
South Korean Authorities continue to dig deeper with a second eSports investigation into match-fixing uncovering a further eight players that also face serious charges. Those responsible for initiating the game fixes were financial backers with a vested interest in how the games turned out. This included their employees along with brokers responsible for arranging the match along with bets.
Backers would initially provide the cash, whilst the brokers would set up the deal with employees going to online gambling sites to place all their bets. The investigations reveal both Bbyong and Life were persuaded by brokers who posed as fans to become part of the scheme. They deceived the players telling them that everyone was involved and local authorities were alerted of StarCraft player involvement in online gambling, as the majority of them were underage and teenagers.
The first proven match fixing game occurred in October 2015 involving 34-year old StarCraft pro ex-champion Sun "Enough" Jun Mo. Sun was sentenced to two years imprisonment and received a life-ban from the Korean eSports Association. It may have been the first case, but it's unlikely it will be the last. Only time will tell what impact these revelations will have in the long-term for this still young and emerging growing sport.