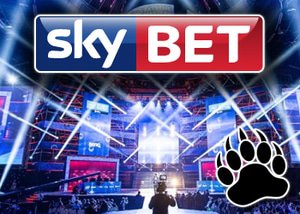 TV giant Sky is to launch the UK's first 24 hour eSports TV channel. They have partnered with ITV and Ginx TV and they are set to broadcast to the largest targeted audience in the world.
Sky already have a popular suite of sports channels and the launch of a dedicated eSports channel is set increase their popularity even further after they announced plans to partner with ITV and video gaming TV channel Ginx.
This new 24 hour eSports TV channel is to be called Ginx eSports TV and it will be found on channel 470 alongside Sky Sports News HQ, Sky Sports 1, 2, 3, 4, 5, and Sky Sports F1.
In March of this year, Sky TV made their first entry into the eSports industry when they teamed up with the Electronic Sports League (ESL) to air highlights from the ESL Intel Masters World Championship, from Katowice in Poland. This airing showed Counter-Strike: Global Offensive, League of Legends and Dota 2, and was shown on Sky 2.
ESL's UK Managing Director, James Dean, who spoke at the recent eSports Betting Summit in London, said that the feedback from eSports betting fans watching Sky's coverage of the Katowice action was really positive, despite the fact that most viewers preferred to look at the coverage on YouTube and not TV.
The new eSports TV channel is set to feature coverage from Turner Broadcasting Systems (TBS) Counter Strike: Global Offensive ELEAGUE, Wembley Areana's eSports Championship Series Finals, and Valve's The International Dota 2.
The ELEAGUE premiered its 10 week CS: GO competition on TBS at the end of May and attracted 509,000 total viewers during their primetime Friday night slot. This is a massive number and with a dedicated TV channel, these companies will see a massive influx in their audience viewing numbers.
Michiel Bakker, CEO of Ginx TV, stated that this new channel will add significant mainstream exposure to the eSports industry. He also confirmed that both Sky and ITV will become shareholders in the company.
The new Ginx TV channel will be available for all UK and Ireland customers and 23 million additional eye from around the globe. This means that approximately 37 million homes will have access to the enew channel making it the largest audience in the world for eSports.