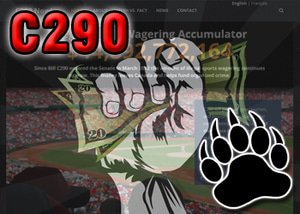 Fans continue to wait for Single-Sports Betting and to place bets on single Hockey Games, or for that matter any other single sporting event.
Regardless that the Commons passed a bill allowing provinces to enable single sports betting like is common throughout most of Europe; the Senate's still in no hurry to take any action, at least before the election.
What's going on with Bill C-290?
The bill has been knocking around the Senate since 2012. With the upper chamber now running out of time for approval prior to the election.
In the words of Conservative Senator Bob Runciman who is sponsoring the bill in the Senate, he "would be surprised if it happens."
With the majority of opposition to it coming from within the Conservative caucus, there is also resistance within all the parties. However NDP MP Brian Masse comes in for criticism from Conservative Senator Vern White who is firmly of the opinion that if everyone followed his line of thinking the country may just as well legalize heroin and cocaine too.
With This Proposed Legislation Passing, A Section Of The Criminal Code Would Be Repealed
One wonders on the British Government's take on such a statement. One imagines that collectively alongside their political opposition they would all be rolling about in stitches at what would appear to them some kind of statement from an era long gone by.
British citizens are allowed to gamble on all single sporting events unhampered without being carted off to prison, but also the government only taxes the bookies or the sportsbooks. The player receives their winnings tax free with the Government's blessing, just as they do if lucky enough to win the National Lottery as well. Is something missing here?
The Canadian Gaming association acknowledges in spite of single sporting events being illegal $10 billion is spent on it every year. Every felt like banging some folks heads' together, "wake up, anybody there?"