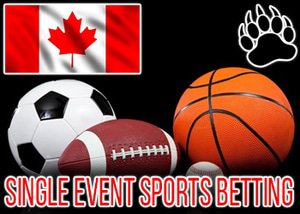 New democrat Brian Masse, in Windsor-Essex, plans to reintroduce the C-290 bill which relates o single event sports betting as soon as possible once the Parliament resumes. This is the bill that was stuck in the Senate and seems to have died.
What most people are wondering, is what will happen when the bill is reintroduced this time around. Will it once again get stuck or will it finally be passed? Several new Democrats who will make up the new Parliament have stated that they intend to revive the single-event sports betting bill, C-290, which was previously passed in the House of Commons, but never progressed in the Senate.
New Democrat Brian Masse has said that his party will be bringing the private member's bill forward again as soon as they can. Masse went on to reveal that much of the work has already been done and he stated that the New Democrats are willing to collaborate with colleagues from other parties to bring this bill into law. During a CBC News interview he stated that what they want to do is have the bill passed and make sure that everyone is comfortable.
The timing of the process won't be made clear until the Liberal government has its cabinet sworn in and the House of Commons is recalled, but one this happens Masse has stated that this bill will be a priority for him. His newly elected colleague in Windsor-Tecumseh, Cheryl Hardcastle, has also come out in favour of getting the bill revived in the next Parliament session. She stated that she thinks that it is something that is of regional interest and that everyone is interested in following through and moving forward with it.
In their election campaign the New Democrats has promised to reintroduce this bill so we will have to see what happens.
The Liberals are currently focusing on their transition into power and their cabinet is due to be sworn in on the 4th of November. According to Cheryl Collier, an associate professor of political science at the University of Windor, the Liberals don't view sports betting as a priority issues and this could affect how the bill fares in the Parliament if the New Democrats bring it forward as a private member's bill.
Joe Comartin, retired MP for Windsor-Tecumseh, was the one who introduce the prior bill C-290 in the last Parliament in 2011. It was sent to the Senate in 2012, but never got passed into law. Earlier this year Comartin say the opposition to the bill had come from sitting senators and their handling of it was shameful. Two Conservative senators who publicly opposed the bill were Linda Frum and Vern White. Frum had stated that the bill was reckless whereas White has attacked Masse's argument that it would take money out of organized crime who are able to profit from illegal gambling. Frum didn't respond to a request for an interview and White was out of the country and unavailable to comment.
Canadians spend $450 million each year on multiple or parlay bets, but more than $10 billion on single sporting events
The Canadian Gaming Association has revealed that Canadians spend $450 million each year on multiple or parlay bets, but more than $10 billion on single sporting events. Ontario Finance Minister Charles Sousa wanted the bill passed to create new sources of revenue for provinces to spend on education and hospitals. Shawn Rumble, a gambling counsellor at Windsor's Hotel-Dieu Grace Healthcare, believe the passing of the bill will feed more gambling addictions. Masse has counteracted this by saying that more money could be put toward gambling addiction treatment programs if the bill is passed and betting legalized.
Unifor, the union that represents employees at Caesars Windor, say that the change would create jobs and allow Caesars to offer a wager that is illegal in Michigan. A report by the Canadian Gaming Corporation estimates that the passing of this bill could see 250 full time jobs being added to Caesars Windsor and Fallsview Casino. Another case study that was prepared by HLT Advisory estimates that Fallsview Casino in Niagara Falls could earn a net gaming profit of between $9 million and $12 million each year. In Windsor this would be between $18 and $24 million. The HLT Advisory report also found that Windsor would see up to $7 million in ancillary revenue.