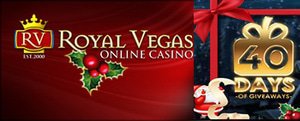 Get ready to secure yourself a great holiday this year with Royal Vegas Casino's Santa Gift Grab which offers up a jolly $140000 in prizes for players this year.
Though the contest already started on the first of December, 2014, it runs for a surprising forty days, until the end of January 9, 2015, Royal Vegas Casino's Santa Gift Grab is all set to give away C$140,000 in prizes to players throughout the holiday season. This promotion is not restricted only to new player or only pre-registered players, everyone is welcome to come inside and take their share through regular play and daily visits.
Every single day of the promotion offers users the chance to head into the Royal Vegas Casino and choose a reward. A daily reward at an online casino? That's practically unheard of! The selection includes cash back, free game credits, rewards points, score multipliers, free spins, and more. All this on top of the many jackpots and small prizes offered by the great selection of games offered on the site that can be won along the way between selections of Santa Gift Grab rewards and while using up the sweet bonuses imparted by the contest.
What better way to celebrate the season that House Stark spent so much time telling us about than by participating in this amazing holiday promotion by playing the brand new Game of Thrones Slot brought to us by Canada's leading online casino software developer, Microgaming? The slot is brand new and the play style may take some time to get to know but the rewards are well worth it. A Lannister always pays his debts; in the case of this great new game, the repayment spans from great entertainment all the way up to a huge jackpot.
As always, there are incentives that keep the loyal player base that Royal Vegas Casino has already earned coming back for more but also additional rewards offered to players who are registering for the first time. In addition to being able to take part in what remains of the 40 days of Santa Gift Grab giveaways, new users can take advantage of a welcome package worth as much as $1200. This will set them well on their way to getting as much as they can from the $140,000 prize pool offered by the promotion and the chance to play a brand new game.