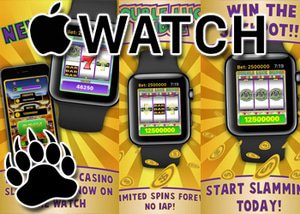 It looks like real money gambling could be on the way as a brand new slots app is released for the Apple iWatch.
Double Luck Nudge is a brand new mobile casino slots app that has just been released for the Apple Watch. It's not the first iWatch gambling app, but it is the first slots app of its kind which means that you can now enjoy spinning the reels from your wrist.
The app has been created by LED Gaming and Purple Gator which are two Chicago based gaming companies. They have created an excellent gambling app that brings with it the feel of a real casino game using the latest touch technology to bring about an interactive experience for users.
There is one big difference with this game though and that is that you can't actually win money from Double Luck Nudge. Not yet anyway but there are some that believe that it won't be long until online gambling becomes legal in the United States and when it does, this app is ready to meet the demands of the players.
Game creator Larry DeMar has stated that the app's technology is ready to accept payments when and if the laws are changed and the company hasn't ruled out the possibility of offering products specifically for gambling approved states. LED Gaming may also offer a real money gambling version of their app to other countries where online gambling is legal, including Canada.
DeMar went on to say that he see the app eventually accepting "micro payments" where users would be able to keep small amounts in their account and place small wagers at a time. He thinks this new app will thrive during times when people are waiting for things to happen, such as waiting in line at Starbucks or for an appointment.
Double Luck Nudge is a three reel slots game and to pull the lever all you have to do is tap on your Apple Watch display. The wheel will then spin and depending on how the symbols land, you will either win and be greeted with flashing lights or you won't. There is also a special nudge feature that you can use. To change your betting amount or check out the pay table, a Force Touch on the display will bring up the settings screen where you will be able to choose to turn on haptics which will make the slot machine vibrate whenever one of the wheels slows to a stop.
According to a recent survey of internet users conducted by Forbes.com, only 5% of North Americans own a smart watch; and in Europe the figure is only 4%. In the Asian-Pacific rim this number rises to 12% but online gambling is illegal there. However, with the rise in popularity of iPhone casinos and slots apps, if the smart watch market continues to grow, we could see a niche market of Apple iWatch casinos develop here.
If online gambling is legalized and regulated in the United States, we could see a lot more casino games apps being created for the Apple Watch and other smartwatch devices.
If you would like to test out Double Luck Nudge it is available for just $2.99 in the app store.