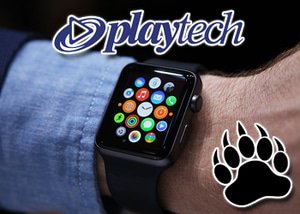 The recently launched Apple Watch is inspiring all sorts of new software for users who want to take their gaming on the go, such as Playtech's new sports betting app.
In a bid to be the first to market and bring the players who use their software the latest and greatest, Playtech is building on their Omni-Channel contract with Coral Connect in order to brings sports betting to the Apple iWatch. Players across their massive European and UK user base will be able to access many of the same features that they are used to across other mobile devices and on desktop computers.
iOS Users Can Bet On And Monitor Live Events
Coming from their experience with wearable Android tech, Playtech has a team of senior mobile developers who were right on top of getting a product to market as soon as Apple's early April submission date opened. Now iOS users will have the ability to get alerts, keep an eye on promos, browse and place bets, and search for live and upcoming matches right from the convenience of their wrists.
A unique selling feature in their software is that players will be able to cash out and get their earnings on the go, enabling them to have the cash they won deposited into their wallet as soon as the event has ended. The home screen for the app displays eight sports, such as tennis and soccer, and tapping one will display not only the status of any current bets that have been placed on that sport but also the history of bets made.
More Apps To Come
Playtech CEO, Mor Weizer, is optimistic about their potential for success, "innovation is part of our DNA at Playtech, an area we take very seriously and invest in heavily year-on-year. We are well ahead of any of our competitors on not just this development, but also the entire Omni-Channel offering as we have shown with Coral and as we are about to embark on with a number of other significant licensees. The Apple Watch is a natural extension to this and no other supplier has the technology, global expertise, resource, and support to offer such an all-encompassing solution."
This great leap for the functionality of wearable tech comes with many other developers looking to get in as the 'next big thing'. It seems as though iWatch users will have many choices in the Canadian market in the upcoming months with Playtech looking to expend it's sports betting offerings and other software to international users. Competition for space on your wrist could be heated with companies like Playtech and Playscreen vying for space on your wrist as the latter recently launched their Apple Watch blackjack app and are working on even more games for the small screen device.