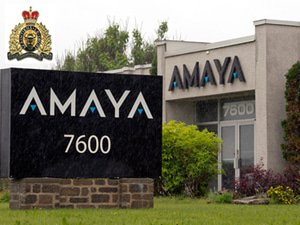 After the nearly $5 billion acquisition of Rational Group, industry watchdogs had eyes on Canada's Amaya Gaming, now RCMP have unexpectedly raided their offices.
Between Monday, December 10 and Wednesday, December 12, 2014, RCMP paired with Quebec's Autorité des Marchés Financiers launched an unannounced raid on the offices of Amaya Gaming after an investigation into their financial dealings. The company drew attention after their high profile corporate purchase of the parent company of Full Tilt Poker and Poker Stars which caused outside entities to look into their financial situation. However, the RCMP has denied any connection between their actions and the investigation, citing precautionary security measures. This raid was part of a larger operation which also included the search of Manulife Financial Corp. and Canaccord Genuity Group Inc.
Amaya has stated that they are not aware of any unlawful activity on their own part but is fully cooperating with the investigation. A press release from the company stated, "to the Corporation's knowledge, this does not involve any allegations of wrongdoing by the Corporation. Amaya will continue to cooperate, if and as requested, consistent with our practice to always cooperate with regulatory authorities. The Corporation will continue to monitor the investigation if and as it proceeds. The investigation has had no impact on Amaya's business operations, employees or companies."
The investigation and raid have not been the only downsides to the company's operation. The latest stock listings showed Amaya having stopped it's near continual growth and showed a backslide with share prices dropping off 18% in a short amount of time. This was the hardest fall that the company has seen since the middle of 2010 after growth of almost 400% in the four and a half years between these two notable slumps in their value. The company did show a slight improvement at the end of last week with a small bounce back in share prices. Where the perceived value of Amaya on the open market will go from here, while the investigation unfolds and the results of the raids are examined by the AMF and RCMP, remains to be seen.
There has been talk of the raid and investigation's impact on the share prices of the company and their chances of creating stock listings in countries outside Canada as well as creating a possible sense of additional risk among private investors. Thankfully for regular players and Amaya's staff, the investigation and raid have had little impact so far as operations continue with business as usual, meaning that there are still prizes and jackpots to be won on one end of the digital casino services as well as paycheques still being paid out on the other end for the holiday season.