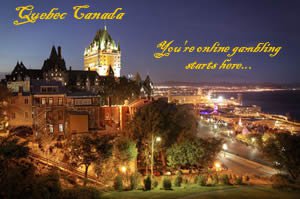 Between licensing, cooperation with the Amaya Gaming Group and the Intercash payment option, Quebec is becoming a hotbed for online gambling.
There have been a lot of twists and turns in the history of the online gambling industry, and at different times, there have been different areas that have helped to really spur growth in a major way. Quebec is quickly becoming one of those places, and one of the reasons why growth is happening so fast there is that they are very serious about creating a healthy environment for legal online gambling.
A great example of this environment at work is the cooperation happening between the Amaya Gaming Group and Caesars Online Casino. Based on the famous land-based establishment in Las Vegas by the same name, Caesars is working with Amaya to provide a safe and secure environment for players in several different parts of the world. They have a strategy that is based on expanding to regulated markets, and that's why they're available in the United Kingdom and the state of New Jersey currently. You have to be 21 years old to play.
This cooperation isn't the only way that Quebec is helping the Internet gambling cause. The Amaya Gaming Group has recently become the biggest name in online poker after purchasing both PokerStars and Full Tilt Poker, and this comes after a period of time that included buying major companies like CryptoLogic which is known for once being the number one casino software provider in the world. Amaya works with the local licensing and governing bodies to try to get everyone on the same page so that their products can be offered in a safe, legal and secure fashion, and that's another way that they are helping to advance legal online gambling.
You can't have gambling on the Internet without a way to get your money back and forth, and the Intercash payment processor in Quebec has been instrumental in making sure that people at Playtech-powered online casinos can easily make deposits. They help users fund virtual prepaid MasterCards which can then be used to make deposits into their site of choice, and this makes deposits quick, easy, secure and reliable. The payment processor side of the game is an extremely important part of legal and safe online gambling, and it's happening in Quebec in a major way.