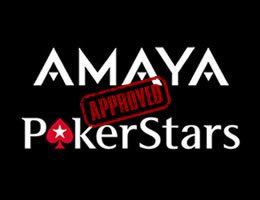 What could be one of the most important deals in the history of the online poker world.
Also one of the biggest deals in the history of Canadian online gambling, the Amaya Gaming Group has officially completed its purchase of the Rational Group, owner of PokerStars and Full Tilt Poker, the two largest online poker rooms in the entire industry. In one swoop, these two industry giants have been switched over to the Amaya license, and some major changes could be coming in the industry as a result.
There are two very important considerations that come from this. It goes without saying that the move to Canada for both PokerStars and Full Tilt is a big deal, but this purchase also includes some of the biggest live poker tournament series in the world including the European Poker Tour, the Latin American Poker Tour, the Asian Pacific Poker Tour and the PokerStars Caribbean Adventure. Control of all of these major events is now on Canadian soil, and that's a pretty big step forward for gaming in the country.
Another major consideration for this deal is that Isai and Mark Scheinberg are no longer a part of the Rational Group, and this opens up a lot of possibilities for both PokerStars and Full Tilt Poker. The reason for this is that they are two key figures responsible for what has been perceived as shady practices for getting deposits and withdrawals to and from players in certain markets. In the United States especially, these two people were the main reasons PokerStars had such a difficult time getting a foothold in certain markets like New Jersey. They will also be looking to make a push into California as that state also looks at moving forward with online poker.
Overall, Amaya will be paying just under $5 billion for their purchase of the Rational Group, and if their previous track record is any indication, they will turn this around and make a tidy profit. This is a very proud day for Canadian players, and it's a very exciting time for all online poker players since it shows that the two biggest names in the business are moving forward just like they always have.