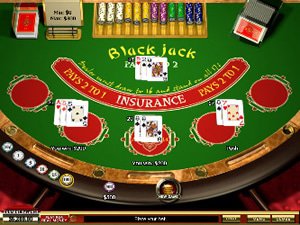 Playtech's Progressive Blackjack jackpot has made winning players quite happy before but hasn't been touched in quite some time, currently sitting at just over $103,000!
Blackjack player looking to take home some bank and line their pockets for the combination of skills and luck of the draw that make the game so exciting are in for a big surprise if they are the one playing when their $1 side bet plays out into a jackpot win. Playtech's amazing Progressive Blackjack has been a crowd favourite for some time and already made the bankroll of many winners explode when they hit the top prize. However, this jackpot hasn't been won in some time, allowing it to swell to an astounding $103,000 that is still rising.
While the gameplay itself is similar to the core game of blackjack, this version allows players to set down a side bet of $1 which entitles them to a payout if they are dealt any number of aces. However, if four aces of the same suit come up for a player that has taken the small risk of the side bet, the jackpot will trigger and one player will be raking in much more money than they were counting on.
The game is played with six decks simultaneously so the chances of hitting a winning combination and taking home the jackpot are slightly better than finding the same single hand in other blackjack games. The winning combination can be napped by splitting aces of the same suit into two hands and being dealt two more aces of the same suit. For those that place the $1 side bet, there are a series of smaller prizes that make the small risk worthwhile.
Two aces of any suit will give the player $25 while a pair of aces of the same suit win four times that with $100. $250 will be paid out to players who find three aces of any suit in one hand while four of any suit will pay out $1500, six times the prize for just one more card! Three aces of the same suit will load your bankroll with $2500 and four of the same will net the astounding $103,000 (and growing) jackpot! All of these prizes also stack on top of any money won by beating the dealer through blackjacks, standing on a higher total, or forcing a bust.
Getting in on the action is as easy as creating an account at one of the Playtech-licensed casinos, such as Sports Interaction, which offer this top shelf game alongside many other high quality offerings and sitting down to play at a digital table. Get in now and start placing those side bets for your chance to take home this great prize!