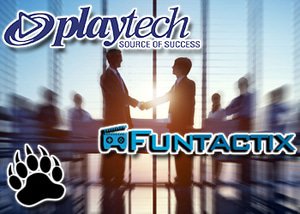 Playtech has boosted their casual games offering by completed the purchase of social and mobile game studio Funtactix.
Last week the online casino technology provider, Playtech, announced that they had completed their acquisition of Funtactix. Funtactix have already carved out a niche developing social and mobile games based on Hollywood film properties. So far terms of this deal have not been disclosed. Getting a movie license is one of the best ways to succeed in the mobile gaming industry and Playtech has already brought in some talented people that know exactly how to make this happen and the Funtactix purchase seems to be just a part of this.
Funtactix release their own in-house game titles and they also have content deals with a number of entertainment corporations, including Paramount and Lions Gate Entertainment. In 2015, Funtactix launched a publishing division called FTX Games which was aimed at joining intellectual property holders with third party game developers.
Funtactix has already developed iOS and Android games based on the Power Ranger franchise and films including The Hunger Games, Mission: Impossible, Hot Tub Time Machine, Rocky, and the FX television series The League. Playtech plans to use Funtactix's expertise and existing relationships with Hollywood and gamers to help them product similar apps featuring big name intellectual properties. Funtactix is headquartered in New York and has offices in Los Angeles, Jerusalem, and Tel Aviv.
This new deal will help Playtech to expand their efforts in casual gaming and boost their market share. The deal will also help them to get their hands on a chunk of the $36.8 billion mobile gambling industry. It follows on from their creation of the Plamee development studio in 2014 and their acquisition of Yoyo Games in 2015. Yoyo Games is the Scottish company that was behind the Game Maker: Studio integrated development.
In an interview Playtech Chief Operating Officer Shimon Akad said that the company has a very clear strategy in place for its casual games division and the Funtactix acquisition would allow Playtech to offer a complete suite of content and software to players, designers, and third parties including some of the largest studios and brands in the world. He also stated that they are confident that their casual games division will continue to go from strength to strength.
The acquisition of Funtactix is the second purchase for Playtech in a number of weeks. They also announced a €50 million deal to purchase Swedish real money slots developer Quickspin last week.