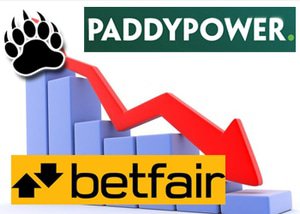 It has been revealed that bookmaker Paddy Power was left with more than $65 million in losses at the end of June after covering the costs of their merger with Betfair.
When reporting on their interim results, the combined Paddy Power Betfair group stated that they lost £49.3 million ($65.18 million) in the first six months of 2016. This was compared with the $140.14 million profit they posted for the same time period last year even after $257.8 million in merger expenses.
This huge loss has come despite the 18% spike in revenues at the betting company to $1.003 billion from $848.76 million the previous year. Online revenues have increased 20% to $581.7 million courtesy of a 21% jump in sportsbook and 20% in gaming revenues.
Their Australia-facing Sportsbet also reported a 17% year-on-year increase in revenues although the company's adverse sports results led to a 10% decreased in underlying EBITDA.
Things Will Get Better
Despite the losses that have been incurred, Chief Executive Breon Corcoran has stated that he is pleased with the merger's progress and that they expect a $85.9 million boost from cost synergies related to the merger in 2017 which is a year earlier than forecast.
In a statement Corcoran said, "The restructuring is now largely complete and the merger synergies are being delivered ahead of schedule. While our industry remains highly competitive and is exposed to the prevailing economic and regulatory environments, our strong market positions, increased scale and enhanced capabilities position us well for sustainable, profitable growth."
Paddy Power Betfair were ranked at number 1 in the top ten largest online gambling companies for 2016. This came about after the merger of Betfair, which had ranked at #5 on the 2015 list of top ten online gambling companies, and Paddy Power ranked #2 in the 2015 list. What we now have is a huge company that dominates the online gambling industry.
Paddy Power Co-Founder Steps Down
In other Paddy Power Betfair related news, Stewart Kenny has stepped down from his role as non-executive director from the board. Kenny was one of the co-founders of Paddy Power and he served as the company's CEO until 2002, and then took up the position as chairman from 2002 to 2003. Kenny has been a member of the board for the past 13 years.