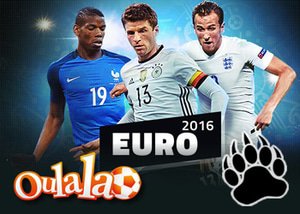 Oulala has launched its brand new Euro Fantasy Football game which is sure to excite sporting fans and lovers of DFS.
Following on from the very successful launch of their monetized version of their daily fantasy football platform in the UK in October 2015, Oulala has unveiled a new game that will allow its users to choose football players from 24 national teams that will be participating in the upcoming 2016 UEFA European Championship.
This new game has the same format as then daily fantasy football game released last year, but it has been redesigned and equipped with a number of extra features. Users will be able to form their own fantasy line-ups for every game day as well as joining or creating their own leagues. They can then compete against their friends or other members to win real money prizes.
According to Valery Bollier, CEO of Oulala, daily fantasy sports (DFS) is the next big thing to arrive in the European Market and they have seen a huge growth in daily fantasy sports in Europe especially throughout the last season. Bollier went on to say that they firmly believe that this tournament will give it an extra push and that their real time product will make the experience of watching the games even more exciting.
Bollier also stated that after the successful launch of a bespoke Oulala fantasy football game for Leicester City, they have begun to offer a white label version of their game to iGaming operators aspiring to enter the fast growing DFS market. A number of operators have shown interest in the B2B solution and Oulala have signed a number of important deals that will come into effect next season. Their aim is to evolve and become the leading Daily Fantasy network for football.
Oulala is a Malta based daily fantasy sports (DFS) operator will soon be working on a Series B funding round (£7 million) and they are also further expanding their user base as well as developing a B2B network of iGaming partners.