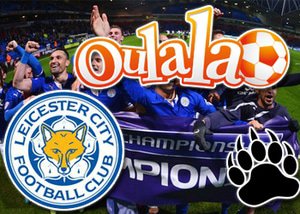 It has just been announced that Premier League Football Club Leicester City who this time last year were bottom of the League in 20th position, have just become the Official Fantasy Football partner of the Global Daily Fantasy Football platform Oulala.com.
With their amazing start to this season currently taking the Premiership by storm in first place, as well as having one of the hottest properties in football in Jamie Vardy who last weekend equalled Manchester United's Ruud Van Nistelrooy's 12 year old record of scoring in 10 consecutive games, this new deal is the first partnership to be established with a Premier League football club and Oulala Fantasy Football.
The partnership will comprise a bespoke Leicester City version of Oulala's Fantasy Football game. This has already been produced and has just been made available to the club's fans, being unveiled for its debut before the club's 3-0 away victory to Newcastle United, last weekend. This saw them propelled to the top the Premier League on 28 points, one point ahead of rival's Manchester United, whom they play at home this Saturday Nov 28, 2015.
Unlike Manchester United, the Leicester City brand is not immediately recognised around the globe and they are not a club that pulls in mega-millions of dollars from their marketing efforts worldwide. They are a small family club based in the Midlands, whose fans are currently enjoying unprecedented success in the Premiership. With their miracle escape from relegation last season, who could possibly have predicted how this season would have unfolded for them after only just 13 League games and the appointment at the beginning of the season of a new manager, following the departure of Nigel Pearson in the form of former Chelsea success, Italian Claudio Ranieri, formerly known for his exploits as the "Tinkerman."
The new Leicester City Fantasy Football game will create brand awareness and raise their Global profile with new found fans being given the opportunity to compete against fellow supporters in head to head clashes, with the goal of winning money with their successful football teams. This one of a kind unique partnership will also provide Oulala extensive stadium exposure at the club's ground as well as on the clubs digital channel LCFC.com, and within their match day programs.
Oulala.com was launched in 2013, by 2 Malta based entrepreneurs Benjamin Carlotti and Valery Bollier and they launched their monetized version of their platform in the UK, earlier last month. The Oulala Fantasy Football platform is based on skill rather than based on luck, and the company has put together a unique scoring system that utilizes historical data provided by Opta, and implements a point system based on key criteria, rewarding users based on personal football knowledge.