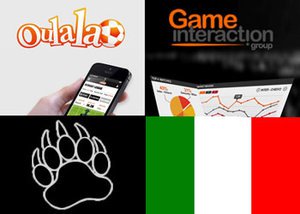 Qulala, the daily fantasy football firm has signed a partnership with Game Interaction Group which will see them expand their operations to Italy.
Malta-based daily fantasy sports operator and B2B provider Qulala has signed a partnership with gaming platform provider Game Interaction Group Ltd that will allow them to bring their DFS product to the Italian gaming market.
According to Benjamin Carlotti, Managing Director of QulalaGames Ltd., "Italy is the next logical destination to offer our DFS platform to. The passionate Italian fans are not yet accustomed to 'fantacalcio' as they say, but we believe that this will soon change."
He also went on to say, "We are very pleased to be signing a binding agreement with a prominent partner, Game Interaction Group, who will not only serve as our exclusive partner in Italy, but will also help us spread our operations to other European countries."
Game Interaction Group Ltd, was founded in 2014 and provides gaming operators with a complete and modular gaming platform which is already certified in Italy. It includes a player management platform, a sports book, and an affiliate management system.
Francesco Arena, CEO of Game Interaction Group said, "Daily Fantasy Sports is taking off in Europe so we're looking forward to offering something new to our clients, besides what we already offer in our existing platform."
She also went on to say, "We believe that Oulala is the best daily fantasy football platform on the market, offering a unique player experience, as it spices up the love that fans have for the most popular sport in the world."
Qulala Also Expands To Australasia
Qulala recently announced their expansion to Australasia and the Indian sub-continent. In July 2016, they announced that they were going down under with a monetized platform at the beginning of the new football season.
This came about after a white label agreement between QulalaGames and Cardinal House Group, the Australian registered B2B and B2C provider of online social gaming products and real money gambling platforms.
Valery Bollier, Qulala's CEO said, "At Qulala, we are excited to offer our platform to football loves in India, Australia, and other nearby countries. This is the next logical step for us in pursuing our mission to become the leading global Daily Fantasy network for football."
Graham Martin, Chairman of Cardinal House Group and former member of Qulala's board of directors, said, "Qulala has proven itself to be a ground breaker in daily fantasy football in Europe, and its innovative DFS platform has great potential in other markets too."
More About Qulala and Daily Fantasy Sports
While Qulala is expanding, they have yet to enter two of Europe's largest markets: Germany and France. Both of these countries have very different regulation structures, so it will be interesting to see who Qulala approaches each of these markets. In Italy, sports betting operators must be licensed by AAMS, which is similar to France's regulating body ARJEL. In France, it is possible that Qulala will follow a similar approach to the one they used for Italy and look for a licensed partner to promote their product.
Qulala was founded in 2013 and allows users to create their own fantasy football team and compete against their friends or other players to win real money. As part of the expansion of their B2B network, this Malta-based DFS operator will be announcing partnerships with well-established iGaming operators. Qulala is also expected to become the first DFS operator to be licensed by the Malta Gaming Authority, under its future skill game license.
Qulala is the exclusive DFS operator of English Premier League champions Leicester City. This partnership deal was the first white label partnership between a DFS operator and a football club.