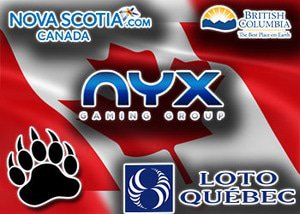 Canadian online gambling is about to get a whole lot better thanks to new provincial approval being granted to NYX.
NYX Gaming Group has been granted selected Canadian provincial approval. This means that they can now provide their products and services to customers in the Canadian provinces of British Columbia, Nova Scotia, and Quebec. Fans of NYX casino games are in for a real treat.
The British Columbia Lottery Corporation has registered NYX as a gaming service provider which is fantastic new for Canadian online gambling enthusiasts. Loto-Quebec has also classified NYX as an approved gaming supplier, and Nova Scotia Alcohol, Gaming, Fuel and Tobacco Division has registered this software developer as a lottery equipment supplier.
Legal Online Gambling In Canada and Where to Do It
Online gambling is legal in Canada but there are only a couple of provincially run online casinos. In British Columbia residents can choose to legally gamble at PlayNow.com. In Quebec residents can play at EspaceJeux the provincially run online casino. Both of these online casinos will now be able to benefit from the new approvals granted to NYX and this should satisfy all their players. Expect to see NYX casino games being added to these Canadian online casinos very soon. Nova Scotia has also approved NYX and we may see their games are products coming to a Nova Scotia casino very soon.
How NYX Have Responded To The Approvals
Matt Davey, Chief Executive of NYX said, "Satisfying the comprehensive conditions set out by the gaming regulators and authorities across these provinces is a testament to our long-term strategy to operate at the highest levels in regulated gaming worldwide. The approvals pave the way to expand our footprint with gaming content and sportsbook services across Canada; our underlying product focus is not the cornerstone of our new operating model and strategic vision."
He also went on to say, "Since our initial public offering at the end of 2014, the journey at NYX has been underpinned by our view on the technology, content, and capabilities required to capitalise on the pace of growth in regulated online gambling worldwide. We look forward to providing world-class content and technology across these provinces and working closely with their respective gaming regulators and authorities."
NYX has appointed Todd McTavish as their new chief legal office and he will lead the group's legal and compliance functions. McTavish said, "NYX has established a highly addictive position in the market across multiple product categories; after a period of strategic M&A focus of the business has turned to world-class execution. The strength of the combined business will be underpinned by critical decisions within our legal, compliance and strategy functions, and I'm looking forward to working with the team as we take NYX through the next phase of its impressive growth story."
Matt Davey also added: "Todd joins us with extensive experience in corporate law, business strategy, regulatory and product compliance. We continue to experience rapid growth and we have appointed Todd to add further strength to our senior management team.