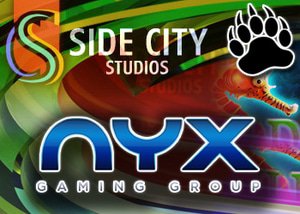 NYX Gaming Group Limited have just announced the acquisition of Side City Studios Inc., which is a Montreal based development studio in Quebec.
NYX Gaming Group (TSX VENTURE: NYX) are a market leading content and technology supplier. They supply lotteries, casinos, and gaming operators around the world and they have just announced the acquisition of Side City development city which is located in Montreal, Quebec. The acquisition is being done through its wholly owned subsidiary NYX Digital Gaming (Alberta) Inc.
This new acquisition will give NYX Gaming Group a studio that already produces casino gaming content. Side City traditionally caters to a North American land based clientele. They create gaming art and animations, math and sounds of high quality, and they deliver these via two business models which are namely direct contracts with game manufacturers, and through game distribution agreements for both land based and online gaming.
This studio is going to provide NYX with an excellent base in North America from where they can expand their development capabilities in Montreal. The purchase price of this acquisition consisted of the issuance of 333,000 ordinary shares of NYX Gaming Group and a maximum performance-based cash payment of CAD $4.0 million which is conditional upon Side City meeting certain performance criteria for the 2016 and 2017 calendar years. The total assets acquired were less than 0.5% of NYX Gaming Group's total assets as of June 30, 2015.
Chief Executive Office for NYX Gaming Group, Matt Davey said, "Side City is another example of NYX's ability to identify and execute on investments that fit into the global content strategy of the company. Further, Side City gives us unique content for the North American market that complements our existing North American business and gives us an entry point into the United States land-based market with existing customer relationships."
About NYX Gaming Group
NYX Gaming Group Limited is a leading digital gaming supplier. Their headquarters are located in Las Vegas and they have more than 350 employees that are based in eight different countries across Europe, North American, and Australia. They currently provide one of the world's largest portfolios of market leading content and technology to some of the largest gaming operators, lotteries, and casinos around the world. NYX has over 170 unique customers and a collective game catalogue of over 650 games. These games include slots, table games, scratch cards, lottery, bingo, and poker, which are available on PC and mobile formats.
NYX has received a Special Achievement Award from EGR for their consistent growth and innovation in multiple e-gaming verticals. NYX is listed on the Canadian online gaming stocks as TSX Venture Exchange under the symbol (TSXV: NYX).
About Side City
Side City Studios Inc. is a digital production studio based in Montreal, Canada. Their expertise focuses on gaming content for land based, online, and social gaming. They produce premium graphics, sound, and animations. They deliver these elements either individually or as complete games. Side City's customers include major land-based gaming manufacturers and distributors as well as online and social gaming providers.