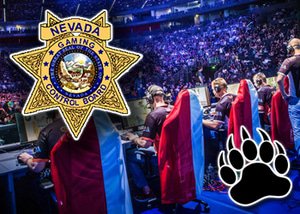 The Nevada Gambling Commission has approved esports betting for Nevada sportsbooks. eSports governing bodies will now have to submit a request 30 days prior to their events if they want to prevent any Las Vegas sportsbook from offering odds.
The Nevada Gambling Commission (NGC) has given the go-ahead for Nevada sportsbooks to offer odds on eSports events. William Hill became the first to introduce esports betting when they offered odds on the Intel Extreme Masters (IEM) Oakland League of Legends (LOL) at the Downtown Grand & Casino.
The NGA had a last minute meeting of minds and the green light was given just a day before players got ready with their keyboards. Nevada Gov. Brian Sandoval said that it was a significant step towards turning Nevada into the "eSports capital of the world".
It seems, however, that not everyone in the eSports industry is as keen to move into the regulated and licensed gambling scene though. In an article created for PVPLive, Dustin Steiner, took a closer look at the NGC to see what would happen if an eSports tournament organizer didn't want to allow gambling at their events.
The weekend before the IEM Oakland LOL event, Evolution Championship Series (Evo) co-founder, Joey Cuellar, tweeted that, "The LV Gaming Commission needs permission from the event to do bets. Evo blocked them last year and will continue to do so."
Steiner however thinks that Cuellar is going to be very disappointed because in an exchange of emails, the Chief of the Nevada Gaming Control Board (NGCB), Karl Bennison, told him that an eSports event organiser would have to submit valid reasons to block gambling at an event to the NGC no less than 30 days before the event is to take place. The final say on whether or not gambling would be permitted would rest with the NGC.
The wording of the email received stated: "Based on the merits of the request, the NGC would decide whether or not to grant the request."
This may just leave a sour taste in quite a few mouths as Evo isn't the only eSports organiser that doesn't want gambling involved with their tournaments. The Twitter feed that contains Cuellar's statement also pointed out that Capcom and Riot also ban gambling at their events.
Evo still has a little bit of time on their side to work out this issue and provide the NGC with valid reasons why gambling shouldn't be allowed as the 2017 Championships won't begin until July 2017.
We're really not sure what to make of this esports news. What do you think? Do you think esports betting should be allowed at all tournaments or do you agree that organizers should be able to say whether or not they will allow gambling at their events?