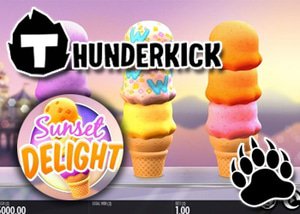 The Sunset Delight slot is brand new from Thunderkick and is an ice cream-themed reel spinning title with 3 reels, 3 rows, and 5 paylines.
This new Thunderkick slot, Sunset Delight seems very like its predecessor sunny scoops which was recently revamped for mobile casinos. Of course what you may not know, is that the new Sunset Delight slot is actually a remake of the popular sunny scoops slot.
Both of these games have unique themes and excellent graphics and the differences are quite subtle. In Sunny Scoops, there is a blue sky in the background whereas Sunset Delight has a purple sunset. The ice cream flavors are different too. Sunny Scoops offers players 14 paylines too. Sunny Scoops also has a wider range of bonus features too.
The Best Sunset Delight Slot Features
This game features ice cream cones that pass by as if on a conveyor belt every time the reels are spun. The cones then reappear with scoops of ice cream being poured. This new Thunderkick slot has an impressive interface design and theme and it includes free spins and win multipliers. That's not all, there are some very impressive payouts to be had too with bets from as low as $0.10 up to $100 per spin. This makes it ideal for all budgets. If big payouts are your thing, you'll love the 15x multiplier that is triggered when you get winning combos with wild symbols.
There is a lot to be impressed with and this new Thunderkick slot includes three scatter symbols that are represented by the wafer chip symbol. Three of the scatter symbols on the reels will trigger the free spins bonus round. There is a scatter symbol that has the +1 step or +1 spin that will give you extra features during the free spins round. There is a scatter step feature that will increase your multiplier by one each time the +1 step symbol appears.
There is also a meter that is used to indicate the level of your multipliers. When the free spins round comes to an end the number of times your win will be multiplied by is shown on the meter. This multiplier can reach up to 100x so there is the potential for huge wins. A scatter spin feature is shown by the +1 symbol and when you land on this feature you will receive an extra spin.
Is the Sunset Delight Slot Worth Playing?
If you are looking for a 3 reel title that is easy to play then yes the new Sunset Delight slot is great. There are plenty of exciting features that will entertain. The small number of paylines and reels can make it difficult to win but if you get a high enough multiplier it can be worth it.