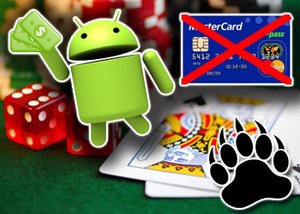 Android Pay has finally been released by Google, and it includes a number of options that are available directly in mobile casino apps.
Right now, the mobile sector of the online gambling world is the fastest-growing segment of the business. However, it also presents specific problems and new changes to the industry since the play and interaction is moving away from the computer-based format. These problems are coming to the forefront for certain gambling payment processors now that Google has released Android Pay.
How Does Android Pay Work?
Here's how Android Pay works. In any app that runs on Android, developers can add an integrated option to pay using the Android Pay option. The idea is that this provides a quick and easy way for people to set up payments. However, in the online casino industry and its mobile counterpart, it effectively means that Android Pay could be cutting in on the business of some of the top processors in the world like Skrill and Neteller.
Optimal Payments, the parent company of Neteller, recently purchased Skrill at the same time they started accepting Bitcoin just as Skrill was gaining ground on them in a major way over the past several years. If Android Pay allows transactions for real money gambling, then this could lead to a big problem for Skrill and Neteller who have historically taken such a large portion of the online gambling payment processor market as the two most popular electronic wallets in the world for these types of payments. Nothing's for sure yet, but it's looking like developers will be able to include Android Pay as an option if they accept gambling payments for Android casino players.
Comparisons to Google Wallet
This isn't Google's first try in the payment processing game. Their Google Wallet option has been around for a while, and it's never gained very much steam. There were a number of major problems with it including wide availability and an awkward interface when compared to other electronic wallets. Google has to prove that Android Pay is superior in a lot of ways before it's ever going to be accepted as a legitimate contender, but the fact that they have so much control over the Android interface means that they could wield some serious influence if Android Pay is good enough at what it does.