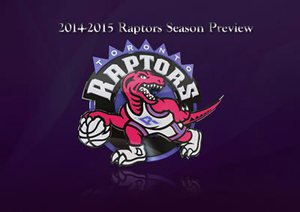 The Toronto Raptors were one of the teams that probably surprised many veteran NBA observers last season, and it was not because they put a lot of superstars on the floor.
They might more accurately be referred to as "lunch pail" guys. An ensemble of underrated players under Dwane Casey's stewardship certainly out-performed the expectations of the oddsmakers, as they posted a 46-33-3 against the pro basketball pointspread. The Raptors won the Atlantic Division and finished in third place overall in the Eastern Conference. They were upset in the first round of the post-season by the Brooklyn Nets.
When we talk about an ensemble, the only player who might be considered a potential superstar-level performer is DeMar DeRozan, who had his breakout season with an All-Star appearance and 22.7-point scoring average. This is not to say we don't have other component parts who are coveted by NBA teams. Kyle Lowry might not get a lot of attention from the American media YET, but he has gradually become one of the league's top point guards, chalking up career highs in scoring (17.9 ppg) and assists (7.4 apg), as well as hitting 38% from beyond the three-point arc.
Raptors NBA Champs? Bet 100 to Win 4500 on it!
This is a team that differs from many previous Raptor editions in the respect that nobody is going to consider it soft, not with people like Jonas Valanciunas and Amir Johnson on the inside. Under former general manager Bryan Colangelo this was known as a finesse-oriented team (in the image of his former stop in Phoenix), and that was the motivation behind selecting people like Andrea Bargnani, who was the top pick in the 2006 draft. But this is a crew with a different makeup now, and Masai Ujiri, who has held the GM position for a little more than a year now (having previously won an NBA Executive of the Year Award), will make sure there is a "physical" element attached to the starting lineup in 2014-15.
The Raptors are filled with role players; the kind of "glue" guys any championship contender needs. Tyler Hansbrough is a 6'9" "effort" guy who is not afraid to get rough. And speaking of rough - James Johnson, a backup power forward, has been a world-class amateur kick-boxer. Greivis Vasquez is a big point guard (6'6") who is smart and versatile. Louis Williams, a new acquisition, is a spark plug who will add energy off the bench. Young forward Terrence Ross, a former Slam Dunk champion, had a 51-point game against the Los Angeles Clippers. Swingman Landry Fields is often praised for his defense.
2015 NBA Finals at the Air Canada Centre - Bet on it at 14 to 1
And defense is what Casey continues to emphasize as the driving philosophy. He's got plenty of background, having played and coached at the University of Kentucky before spending 17 seasons in the NBA as an assistant coach before spending a season and a half as the head man at Minnesota. He has improved Toronto's win total by double-digits in each of the last two seasons.
So what are the possibilities as this NBA season proceeds?
Lebron James and Company - 3 to 1 Odds to Win the NBA Title
Well, the Raptors did not make personnel moves that would necessarily be considered game-changing, as Ujiri preferred to keep team chemistry intact. One team that DID make the huge moves was the Cleveland Cavaliers, who signed LeBron James and traded for Kevin Love, and who are priced at +300 to win the NBA title according to the futures odds at Bet365. In case, you were wondering that +300 means a 100CAD bet pays 300 if you win. Anytime there is a plus sign, that is the payoff on a 100CAD wager. If there a negative number, like in the wager for Lebron James to be the 2014/15 season MVP (-110) you need to wager that amount to win $100.
The Raptors are +1400 to win the Eastern Conference (with the Cavs at +105) and +3000 to win the NBA championship. They are also +120 favorites to capture another Atlantic Division title, in a grouping that also includes the Nets, Philadelphia 76ers, New York Knicks and Boston Celtics.
At Sportsbook.com, the price on the Raptors going all the way is more appetizing (+4500), and Casey is posted at +2000 there to win the coach of the year award. DeRozan is +30000 (300/1) to win the league's MVP award at Sportsbook.com. He is just +8000 at Bet365, with Valanciunas listed at +25000 (250/1).
How many games can the Raptors win in the regular season? Well, Sportsbook.com has posted an over.under of 48 wins (-115 either way), and if this team can avoid catastrophic injury to DeRozan, Lowry or Valanciunas, they may not have any trouble going beyond that figure. But can they get beyond the first round of the playoffs this time? That remains to be seen.
Unfortunately, the savvy Canadian sports gambler will need to look off-shore to find these somewhat exotic wagers and even your basic staight bet. Currently, the provincial monopolies only offer 3 team or greater parlays for sports gambling. Parlays may pay out well, but realistically, the more you choose, the more you lose. Hopefully, that changes soon with the proposed Sports Betting Law Bill C290. C290 which proposes to allow Pro Line, Play Now et al to take single event wagers. To learn more about the legal status of sports betting in Canada, read this piece.
The Raptors Update - With 1/4 in the Books, DeRozan Injury an Issue
The Toronto Raptors will be without DeMar DeRozan for a while, as he has a torn adductor longus tendon in his left leg. When will he return? Who knows. But the thing about the Raptors is, on this team of role players, losing the leading scorer, even one as talented and productive (19.4 ppg) as DeRozan is, they can have someone else, or rather a combination of players, step in to fill that role.
This team has been carefully designed not to rely too heavily on any single player, preferring to emphasize the "ensemble" philosophy. And they are adjusting their offensive approach, in the sense that they are shooting more three-pointers without DeRozan.
Raptors Deal With DeRozan Injury
With DeRozen out of the line-up, there is no question that Kyle Lowry has stepped up as the leader on this team. Lowry has a PER (player efficiency rating) that only Michael Jordan, Magic Johnson and Chris Paul have acheived at the point guard position. The Rap's deep bench can definitely not be overlooked with key performances by Vasquez, Patterson, Johnson and Lou Williams.
The Raptors have won 15 of their first 19 games, which gave them a clear lead in the Eastern Conference, which is undergoing a transition this season. The Cleveland Cavaliers are starting to play better, but they are still a work in progress with LeBron James and Kevin Love now in the fold. The Miami Heat are hovering around the .500 mark as they adjust to life without LeBron. The Indiana Pacers have become a non-factor due to injuries, most significantly to Paul George, who broke his leg in gruesome fashion. The Chicago Bulls are being very careful with Derrick Rose. The Washington Wizards and Atlanta Hawks have gotten off to surprising starts, but can they sustain it?
The general consensus among sportsbooks at the moment is that the Raptors are third on the list of favorites to win the East and advance to the NBA Finals, behind the Cavaliers and Bulls. But remember what we said about the value of team chemistry and continuity in our season preview - this is when it shows. So this team, priced at anywhere from 8-1 to 10-1, may just be providing some value in that spot.
Last Update: Fri. Dec. 05, 2014