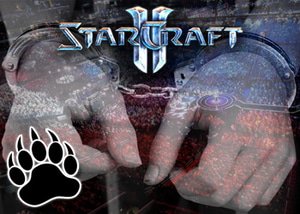 It has happened again and the eSports gambling world has been rocked yet again by another match fixing scandal which once again shows the sports' vulnerability to manipulation.
On Monday reports began emerging from the South Korean media that stated that 12 people had been arrested in connection with a fixing scandal that was linked to Prime, which is a local StarCraft II team. The arrested people included Prime's coach Gerrard (Park Wae-Wik) and one pro player YoDa (Choi Byeong-Heon). Both individuals have now been banned for life from any competitive play in the eSports industry.
Among the other individuals that were arrested was team member BBoongBBong (Choi Jong-Hyuk) and former games and current eSports journalist Enough (Seong Jun-mo). According to the media reports, Enough acted as a broker between players and two financial backers with ties to organized crime rings.
An investigation that was held by the Changwon Regional Prosecutor's Office and the Korean eSports Association (KeSPA) revealed that a total of five matches in the Proleague and Global StarCraft II League (GSL) competitions this year were subject to tampering. An anonymous tipster looking for a reward informed the KeSPA.
It is reported that BBoongBBoong received KRW 5m ($4,400) to fix a ProLeague match back in January. YoDa received KRW 30m to throw two matches in February and April and was allegedly blackmailed into throwing two more matches in May and June for which he received no payment. Gerrard is said to have been paid KRW 10m for convincing players to become involved in the match fixing.
One of the financial backers is said to have earned KRW 41.5m wagering on the fixed matches with online gambling sites. Another backer is said to have won nothing after his broker failed to convince any team members to fix the matches. What did happen though was that he didn't relay this information to the backer so the broker then went on to sell the information to over 50 members of an illegal gambling ring and we're sure they were all very disappointed when their rigged bets didn't pay off. Speculation is saying that it may have actually been the broker himself who tipped off the KeSPA so that he could be put safely behind bars.
KeSPA director, Cho Man Soo, issued a statement saying that the Association would be continuing with their "zero-compromise" stance on illegal betting. Earlier this month we also saw the CEO of the Electronic Sports League celebrating his group's deal with sports data specialists Sportradar. He stated that preserving the integrity of tournaments was the most important challenge facing the eSports betting industry as it continues to grow at a rapid pace.