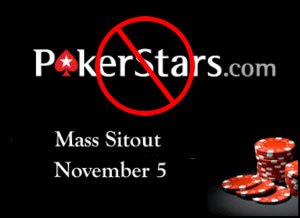 A sitout protest scheduled for November 5 could shake up things for PokerStars just months after the Amaya purchase.
It was big news to Canadian players when the Amaya Gaming Group purchased PokerStars earlier this year, but there's trouble in paradise after a number of moves the group has made have proved particularly unpopular. One move is the introduction of the "Spin & Go" format. This is a version of hyper-turbo, three-man sit-and-go tournaments that have a lottery style selection of prize pools. This format is an interesting addition to the lineup, but it's also nearly impossible to know if you're a winning player or not because of the overwhelming volatility in the games.
While this might have been the tip of the iceberg, there have been a number of rake increases planned in the short-term that will severely hurt the ability of players to make a profit, and this is the main thing that has players up in arms. A number of games like cap no-limit hold'em have been proven to be unbeatable with the new rake levels, and this has led to an organized sitout on November 5 at 6:00 pm GMT.
The precedent for these types of sitouts was set previously when PokerStars was set up for its own segregated site inside of France. The laws set up for the rake at the time were made by people who didn't understand the economics of poker, and the rake schedule put into action was structured in a way that would not have allowed anyone a chance to win over the long run. The reason for this is that the rake slowly eats away at each player's stack, and the rate was set at a pace that winning players could not keep up with. A mass sitout of a similar variety in January of 2012 led to changes to the rake schedule for PokerStars.fr that made it so the best players could win once again.
The problem with this approach in this particular situation is that a different precedent has been set when players sit out to protest site-driven rake schedules. When the protests in the beginning of 2012 happened on PokerStars.fr, administrators banned and suspended a number of accounts over the whole ordeal. That precedent is based on a very low level of tolerance for disrupting the games and leads to players having their accounts banned or limited to being able to sit on only one table at a time with chat abilities revoked. Whether or not that will happen with Amaya and the upcoming sitout is yet to be seen, but chances are that it's not going to turn out good for either side and could negatively affect the Canadian company's stock price in the short and long-term.