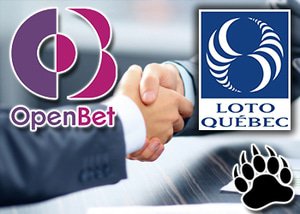 The online sports betting technology provider, OpenBet, has shown support for the Canadian provincial gaming monopoly as Quebec prepares to change its online gambling setting.
OpenBet have announced that they have signed a three year extension to their current supplier deal with Loto-Quebec. In addition to extending their contact date, OpenBet is also providing Loto-Quebec's online gambling site EspaceJeux with its now mobile gambling solution which was launched at the end of 2015.
OpenBet has been the software provider for Quebec's legal casino EspaceJeux since its launch in 2010 and they also have ties with other provincial lottery monopolies, including the British Columbia Lottery Corporation. OpenBet power PlayNow the BC casino that also launched in 2010. OpenBet and BCLC recently expanded their relationship with the launch of sports pools on the PlayNow casino.
OpenBet have stated that their new Quebec deal reflects Loto-Quebec's convergence strategy and is "designed to support the planned changes to regulation within the province that is currently being passed by the authorities."
These regulations include the licensing of selected private online operators, which may feel is a way of allowing Amaya Gaming to legally operate their PokerStars brand in the province. Canadian law currently prohibits online gambling operators with a physical presence in the country from serving local punters, which creates an awkward liability for Montreal-based Amaya Gaming.
NYX recently acquired OpenBet with support of UK operators William Hill and Sky Betting. The change of ownership prompted William Hill to withdraw their online operations from British Columbia and Manitoba. William Hill have claimed the withdrawals were due to "licensing conditions" stemming from its newly acquired 19% stake with NYX.
Amaya Gaming also has an ownership stake in NYX and it has been reported that NYX are looking to get Amaya to switch its Betstars unit to the OpenBet platform. If these deals continue, you might find it very difficult to figure out where Canada's provincial gaming monopolies end and where Amaya/NYX begins.