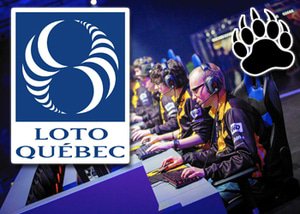 EspaceJeux, Quebec's online casino, is branching out into eSports betting thanks to Loto Quebec adding it to their iGaming platform.
Last Friday, Loto-Quebec announced that they had rolled out a new eSports category via their Mise-o-jeu sports betting offing. Online casino Quebec, Espacejeux, is currently offering 13 different markets on the StarCraft II World Championship Series (WSC) Summer Circuit Championship.
The WCS event is taking place in Montreal for the first time as part of the DreamHack Open: Montreal Weekend. Loto-Quebec has teamed up with DreamHack by sponsoring the Loto Quebec Indie Zone, which will offer free space to a dozen local independent game studios to showcase their products.
Nathalie Rajotte, Loto-Quebec's corporate director, strategy, innovation, and branding, said, "At Loto-Quebec we are passionate about gaming in all its forms. There's a natural link between our teams and local creators, communities, studios and talented developers." He also went on to say, "Video gaming is a major source of innovation and pushes the limits of creativity in a whole range of sectors, including ours. Extremely active in Quebec, this scene is the source of many great avant-guard entertainment ideas."
It is expected that around 10,000 eSports fans will attend the DreamHack Montreal event. Louis Beaudet, Loto-Quebec's director of sports and entertainment betting said, "demand for eSports betting opportunities are growing and Loto-Quebec are filling the gap by offering a secure and honest environment for placing bets." He also added that offerings on the international scene are often illegal or poorly regulated channels.
EspaceJeux is also offering markets on the Dota 2 International 2016 contest and Beaudet said the new eSports betting category has now been activated on all platforms and the site would continue to track interest in this type of betting over the coming months.
Playnow the British Columbia online casino already offers eSports betting on StarCraft II, Dota 2, and League of Legends, so it really is no surprise to see Espacejeux following suit.
More About Loto-Quebec
Loto-Quebec's online gambling revenue rose one-third in its most recent fiscal year but the monopoly believes that it could be much better if its online monopoly was more rigorously enforced. Quebec passed legislation in spring that would force internet service providers to block the domains of unapproved gambling sites.
Quebec's finance minister claimed that the IP-blocking plan is intended to protect consumers from shady sites, but he only made this claim after originally stating that the plan was designed to boost Loto-Quebec's annual revenue by C$27 million. This new plan has yet to be implemented and is already subject to two legal challenges.