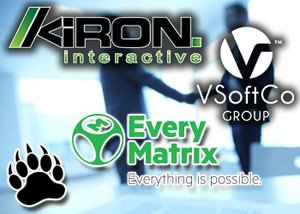 The collaboration between EveryMatrix and Kiron Interactive and vSoftCo has been extended and could mean great news for virtual sports games.
Kiron Interactive is a virtual games developer and together with their software development partner VSoftCo they have extended their partnership with EveryMatrix. This extension involves the integration of the BetMan Online Remote Gaming Server onto the Casino Matrix platform.
The integration of this Kiron platform will mean that the full suite of online games will now be available to EveryMatrix casinos across Europe and Asia.
VSoftCo and Kiron Interactive have a number of virtual sports products and initially ten virtual spots games will be rolled out. This will include VSoftCo's new virtual football league game and Kiron's new 3-pointer shootout basketball game. More games will be added to the portfolio very shortly too. This is great news for fans of virtual games and it means EveryMatrix casino players will be able to enjoy these online games too.
These two casino software companies first teamed up two years ago with an initial roll-out of Kiron's virtual racing and VSoftCo's virtual football game on the EveryMatrix's OddsMatrix platform which proved to be very successful.
CEO of Kiron, Steven Spartinos, said he was delighted to be able to offer a more extensive product portfolio to reflect the growing interest in virtual games from gaming operators around the world. He went on to say, "We are very pleased to have extended our deal with EveryMatrix, whose excellent platform has helped us reach new audiences in new territories. We have already experienced great success with them and I'm confident that players of their operating partners will enjoy the greater variety we can now provide."
Sales Director of VSoftCo, Simon Westbury had this to say, "We are delighted to further our existing relationship with EveryMatrix, in partnership with Kiron. We are introducing some exciting new game content which we are confident will be well received by EveryMatrix's extensive international client base."
EveryMatrix CEO Ebbe Groes said that Kiron and VSoftCo's virtual games were very popular with players and that they are delighted to now be able to offer more titles to their customers. He went on to say, "I'm very hopeful this deal will be beneficial for the three of us and the growing list of casino and sportsbook operators that we supply around the world."
Virtual sports games shouldn't be mistaken for virtual reality games that are now being released. Virtual sports games are based on real live sporting events but they aren't virtual reality games. There are virtual reality sports games that allow you to become the player but unfortunately these aren't available in online casinos just yet. If you do want to try a virtual reality casino game though you should take a look at Microgaming who are set to bring virtual reality to online gambling very soon.