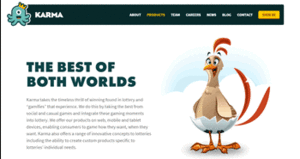 Karma Gaming is based out of Halifax, Nova Scotia, and they recently landed a major deal that will have their titles distributed on a larger level.
In the online gambling world, there are tons of smaller software companies who don't have the resources to get in on the action and distribute on a wide range for themselves. Along these lines, they have to try to earn a contract through some sort of content distribution network to get more exposure for their games to earn more revenues to grow.
The Obodo Development Program gives game developers an opportunity to have their titles presented through platforms like GTECH. Karma Gaming has the perfect selection of games for this type of thing because they have been innovating in a major way, and their titles tie into elements of social gaming and other types of games that stay popular. As the 27th developer to be added to the Obodo Development Program, Karma is definitely looking to make a major impact on the industry with their expanded reach.
Something that makes the titles produced by this company so different is that they take very atypical approaches to the way they interact with players. For example, they have created a line of games that's a combination of Hidden Object-style games and Crossword-style games where players have to find hidden letters to fill in words. These lottery games use the "casual game" dynamic in a major way, and that's just one example of how they have innovated and carved out their own piece of the market through their ideas and concepts for their games.
Karma Gaming is a bit atypical because they are a private start-up instead of being a publicly-traded Canadian stock. Private companies like this aren't seen so much in the online gambling space because of the need to go public for investment dollars, but Karma is playing the long game. The main strategy for companies that take this approach is that they want to drastically boost the value of their company before going public so that they can get a larger payday if they eventually decide to offer stock options.