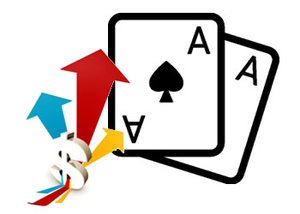 Serious gamblers are always looking to win on their next wager and there is a new wave of online gambling investors aiming to pique the interest of bettors.
The world of online casinos grows daily with weekly new game releases and relaxing laws allowing more players to get online and put their chips down at their favourite digital casino. Now those looking to make more bank from their favourite pastime can get in on the action in more ways than just playing in order to get their share. Now the players who best understand their favourite games are being encouraged to develop tweaks to current games and entirely new games of their own that will be able to take off and become wild hits among players.
Online casino operators develop long standing deals with software developers in order to license games and get players interested in their particular site or network of sites. Occasionally there are individuals or groups outside of these massive games development companies that come up with a hit and start the dollars rolling in by either licensing their game to a software developer or selling the right to use it to casinos. These proprietary games have the potential to be a big money draw for those behind them as each casino could pay up to $2000 monthly to the owner of the game.
One example is Roger Snow, Senior Vice President of Bally Technologies, who invented with, and patented, well known game variants such as Crazy 4 Poker, Dragon Bonus Baccarat, blackjack House Money side bet, Four Card Poker, and Ultimate Texas Hold 'Em Poker, as well as many spin offs of house money rules. He shares the specific detail that allows for new game variants to see success with players, "you have to come up with rules that players really like." He continued, 'I get to double down and split for free; I get to bet four times on my hand,' and then you have to come up with rules on the other side that give the house advantage back."
This is a man who knows what he is talking about after so many successful turns in the incredibly competitive industry. Players need to feel like they can win and walk away with a little bit of money but will be willing to invest time and effort to play and learn the finer points of the gameplay. There has to be an appeal to that want to turn a profit which will, in turn, turn a profit for the one who invested their time and money into this new project. To players who not only understand the intricacies of their favourite games, but also want to take a risk as they step into a highly competitive arena, there is a huge amount of money to be made with a single success.