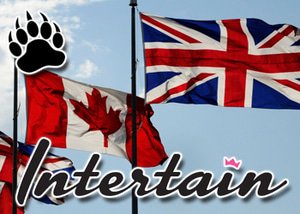 Canadian online gambling operator Intertain plans to move from the Canadian to the UK stock exchange after failing to receive a suitable acquisition offer.
Intertain says they will proceed with their plans to get listed on the UK stock exchange after they failed to receive any satisfactory offers to purchase the company. They announced that they plan to implement their "UK Strategic Initiatives" including establishing a new London-headquartered UK corporation that would pursue a listing on the main market of the London Stock Exchange.
In a recent interview Intertain said they had decided to pursue the UK strategy after their strategic review process resulted in the company receiving "preliminary and refined proposals from highly-credible strategic parties" looking to acquire Intertain outright. They also stated that they had received offers to acquire "material business units" of the company.
While this Canadian online gambling operator said they had held talks with the various parties submitting these offers, no definitive proposals had been received. As a result, the board concluded that "continuing to operate as a standalone business" under its new UK-based management team "offers a significant opportunity to maximize the potential long-term value" of the company.
Intertain UK Online Bingo
Intertain's business primarily consists of UK facing online bingo operations and as such, they believe the UK is the natural home for their stock listing. They believe that the key advantages of their UK strategy remain substantially unaffected by the recent uncertainty following the UK's Brexit vote.
They also believe that moving from the CA gambling stocks exchange to a UK listing will provide them with greater exposure to a large analyst community with extensive sector experience, as well as boosting their profile and status among the UK and European based investors.
Intertain believe that their stock is presently undervalued by the North American exchange who have expressed concerns over the company's ability to turn a profit as their enormous debt and earn-out obligations come due.
In a statement, Intertain said it doesn't intend to issue any new shares via its UK listing initially but they are actively exploring their debt financing options so that they can meet the aforementioned earn-out obligations which will be due in June 2017.
It is yet unclear how Intertain will proceed with their strategies for this stock exchange move and as further information and reports become available we will make the information available here.