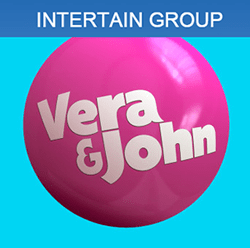 The growth of Intertain has continued once again as they purchase the popular Vera&John gambling brand.
When an online gambling company wants to expand, they have a few different options. One of those options is to slowly-but-surely expand their own product through investment in better software, more games and high-quality content that attracts players. Once that's established, they can go about buying up smaller brands that are already established instead of reinventing the wheel over and over again. This is exactly what the Intertain Group has done after purchasing Vera&John Casino for about $126.1 million.
Vera&John Casino has been around since 2011, and what sets them apart from the competition is that they offer an exceptionally wide range of games from multiple casino software developers. This includes content from Net Entertainment, BetSoft, Microgaming, IGT, Bally, NextGen and more. They have over 800 titles in total, and they have close to half a million players. It's easy to see that this type of wide game selection and established base of players is something that Intertain would really be interested in.
Something that's really important about this acquisition is that the Intertain Group is traded on the Toronto Stock Exchange. As they push to grow, a lot of people are afraid of investing in online gambling companies because of the seemingly high risk that's involved for people who don't really know about the industry. This creates a lower demand than what you would normally see, so prices often stay at undervalued. This means that they can be a good buy a higher percentage of the time as has recently been seen with the stock prices for the Amaya Gaming Group.
Overall, the acquisition of Vera&John Casino is an interesting move for Intertain as they continue their growth. If you look at what's valuable about Vera&John as a brand and as a casino, then you can start to see what Intertain values, and you can make good choices about whether or not you think this is the right direction to go. We think it is, but you'll have to decide for yourself. Only time will tell if their strategy is a winning one.