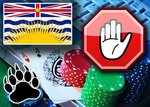 The Canadian province of British Columbia has sent out warnings to gaming operators not to attempt to enter the online casino monopoly that the province enjoys currently.
In August, the branch responsible for Gaming Policy Enforcement sent out letters to nineteen online gambling operators who currently accept wagers from those residing in British Columbia, advising them that, by accepting wagers, they could be in conflict with the Gaming control act and the Criminal code of Canada.
eGaming Review acquired a copy of the letter sent. In it, it makes the claim that the only ones permitted to operate or manage a lottery scheme in British Columbia are the British Columbia Lottery Corporation and as such, no other company may enter or accept wagers without expressed approval from same. This is rather an interesting move and seen more as an act of intimidation, as most legal analyst interpretation of the Canadian criminal code clearly state that offshore companies are not breaking any laws that relate to gambling if they do not have a Canadian physical presence.
The letter further states that British Columbia has shared the information about the companies it sent the letter to with other provinces in Canada, and are seeking to enter into discussions about the legalities of B.C online gambling. Recently, the province began promotion of its PlayNow.com site to cater to those preferring to play online, and the results have been stellar, with revenue surpassing $135 million. While this in itself was a great revenue boost for the province, they need more if they wish to carry on their battle towards freedom of information requests relating to BC Casinos and money laundering.
British Columbia is not the first in Canada to question how to deal with international gaming operators who cater to players and offer a far greater range of gaming alternatives, often with better odds. Both Ontario and Quebec operate their own online casino sites and have had discussions relating to this subject. The B.C lottery most likely has very limited options if those international sites select to ignore the warning, and considering Quebec's recent failure to see IP address blocked from international sites defeated by the Canadian Communications regulator, the options are few. It is notable that the provincial monopolies do serve a multi-purpose as a regulator and operator, which is a conflict of interest that essentially makes those sites operated by the provinces unregulated.