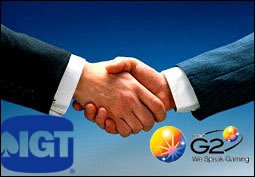 Another huge deal has been made between two huge software companies.
Those who were entertained by the sheer size of Amaya Gaming's acquisition of the PokerStars and Full Tilt brands certainly appreciated the latest mega-deal affecting the worldwide gambling industry, which was indeed very comparable, and even more substantial, if viewed from one perspective.
Gtech SpA, a company based in Italy and had previously completed a monster merger with the state-licensed Lottomatica, announced the agreement to acquire International Game Technology, better known around the world as IGT, for a whopping $4.7 billion in cash and stock. Since Gtech also assumes $1.75 billion in existing debt incurred by IGT, the total value of the deal is actually $6.4 billion.
This is a marriage of giants, to be certain. Gtech is currently the world's largest provider of lottery systems. IGT, which has made inroads into online gambling but is more fully established in the land-based gaming industry, is the world's largest producer of slot machines.
Marco Sala the CEO of Gtech, who assumed administrative control of the merged entity through a newly-formed holding company, believes firmly that the deal "will transform the gaming industry." He points to a catalog of games that, in his words, "will surpass that of any other company in the industry."
IGT shares saw an 8.5% boost on the New York Stock Exchange right after the deal was announced. The holding company will only be listed on the NYSE and not on the exchange in Milan, where Gtech has been and will now de-list from.
And it is all part of Gtech making an attempt to increase its market share in the slots industry in the U.S., which it has certainly now done. And there is no question that talent from both companies will be instrumental in making a stronger move into the social gambling space, with members on platforms like Facebook readily adapting to the idea of playing for fun, and in jurisdictions where it is going to be permitted, for real cash.
It should be noted that IGT has invested heavily in social games, buying a company called Double Down Interactive, a key player in the game that made slot-type games for play on Facebook, a couple of years ago in a move that sparked the ire of certain major shareholders, who felt that the company drifted from its core competence and wasted opportunities in the international arena.
It is true that IGT's market share has dropped considerably in recent years, as companies such as Scientific Games have been very aggressive, particularly with acquisitions (most notably, they purchased WMS Industries last year for $1.5 billion). That, and the recession, took its toll on IGT, and its stock price.
There is going to be an 80-20 split in terms of the ownership of the new holding company between Gtech stockholders and those of IGT, Naturally, there is an approval process that has to take place, and that should be completed at some point during the first half of 2015. The world headquarters will be in the United Kingdom, but will also operate out of Las Vegas, Rome and Providence (in close proximity to tribal gaming entities).