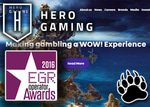 Gamification casino innovators, Hero Gaming, have just won the 2016 ERG Rising Star Award, proving that gamification in online casinos really does work.
Casino Heroes launched back in 2014 and this site took gamification of casinos to a whole new level. This online gambling site offers an online gaming experience unlike anything the iGaming industry has ever experienced and their success has inspired many more companies to follow their lead.
Hero Gaming is undoubtedly the leader and innovator when it comes to gamification and they have continued to surprise players around the world. They were the obvious choice for the Rising Star award thanks to these 2016 highlights:
Continued innovation in gamification including virtual currency and a new exciting Boss fighting game that was launched.
They offer exceptional player value and their retention rates are really high. They launched several new key gamification features that resulted in industry-leading retention rates and a projected player value of €600.
They offer 360 degrees marketing. This includes true integration of the adventure narrative in very successful acquisition and retention campaigns.
The growth of this company has been phenomenal. Their ambition to deliver the most engaging and fun casino experience has paid off and they have seen a 111% growth in revenue. There has also been a 57% growth in monthly active unique players during 2016.
Hero Gaming's CEO, Magnus Alebo said, "Apart from being extremely happy and proud for this award, we see it as yet another proof of concept for our strategy of gamifying real money gambling." He also pointed out, "The qualification period for this award actually ended in August 2016 and since then we have taken additional leaps, not the least launching the world's first sports betting adventure Betser.com, so we'll be back next year to fight for new awards."
More About Casino Heroes and Their Gamification Casino
Since launching in 2014, Casino Heroes has proved that gamification of real money gaming can be successful. Senior VIP manager Gianluca Pala said, "Our players show extreme devotion and there is a hype before our every campaign. Players come to us, asking to hear the latest news, before we even reach out to them."
It is the casino gamification feature that has brought Casino Heroes to the centre stage but they have also added so much more to their lineup in 2016. The highlights of these include, new boss fights, a unique store, and three new and exclusive free spins. This online casino offers never-ending innovative campaigns such as Game of Spins. They are always launching new treats for players and as CEO Magnus Alebo said, they feel the excitement along with their players. He also stressed the employee devotion as well as promising some amazing new ideas coming in the future.
Gamification in online casinos seems to be the way forward and we are certainly looking forward to seeing what 2017 will bring for Casino Heroes and their players.