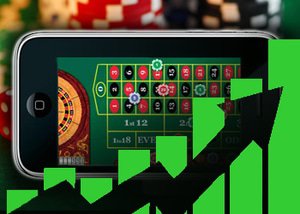 New research about the future of mobile gambling is telling us that major growth is likely to happen, and players should be ready for a new era of games.
Industry experts have been talking about the mobile sector for a long time and how its emergence and growth is comparable to the emergence and growth of the online gambling industry as a whole. Now there is even more research out there showing that mobile gambling is here to stay in a major way.
Big Numbers for a Big Industry
In 2013, there were about 63 million players getting in on the action gambling on mobile games. Research is pointing us in the direction of having about 160 million players by 2018, and to make sure we're being clear about this, that's for mobile play only. As we can see by the recent triple release of Mystic Monkeys, mobile gambling is becoming more and more important, and as technology expands with ideas like Google Glass, the mobile side of this industry is going to keep up with the trends.
Virtual Reality and Other Innovations
Earlier this year, Microgaming released a virtual reality roulette game that used the Oculus Rift interface. We point this out to show you that they're keeping up to the level of the most recent technology in everything, and since mobile is the fastest-growing part of the online gambling world, it's pretty easy to see that they're going to keep up with things in that arena as well.
And Microgaming isn't the only one. Net Entertainment is putting out some of the hottest games in the industry right now, and they already have a special branch of their games called NetEnt Touch for the mobile platform that's centered around touch screens and the most advanced technologies that are fairly common among players. They took the touch screen as a very serious piece of technology and optimized their games for it when the competition wasn't, and now they're at the head of the pack. This just goes to show that they will also be staying on top of things when it comes to the mobile side of gambling.