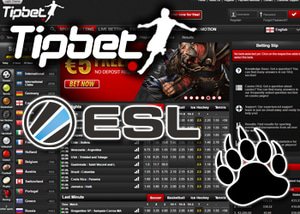 Sports Betting operator TipBet has announced a free live streaming channel for ESL eSports events will be coming to its website.
In a press release, Tipbet announced that it is implementing a free live stream channel for ESL eSports events, supported by Betradar, on its website. This new feature will combine live streams for all major events with comprehensive live scores and statistics, allowing users to watch live competitions and bet on the games. It will feature high-quality picture and have top odds on all the games.
Tipbet is using Betradar's live streaming solution that has 1,500+ live streams in partnership with ESL. This guarantees the highest quality feeds available in eSports betting and a faster signal than any other source. The live stream will be available for free for all registered users of the Tipbet site and the ESL transmissions will include events for Counter-Strike: Global Offensive (CS:GO), Dota 2, and League of Legends (LOL).
We hope to attract a completely new generation of customers and offer them a truly impressive and entertaining experience.
Philippos Naskos, Product Manager for Tipbet, said, "Offering betting on eSports presents a unique opportunity for us to enter a new and fast-growing market outside the traditional sports genre. There are currently over 200 million people who are passionate about this hobby, and this new and exciting market keeps attracting new fans at an exceptional rate. Therefore, with this new addition, we hope to attract a completely new generation of customers and offer them a truly impressive and entertaining experience."
Tipbet Official Betting Partner of SV Werder Bremen
Tipbet is the official betting partner of Bundesliga team SV Werder Bremen for the 2016/17 season and, as such, they will be represented in advertising space around the Weserstadion and will organize a series of activities to encourage the engagement of Werder Bremen fans.
There are numerous betting shops operating successfully under the Tipbet brand in Germany. SV Werder Bremen with their Bundesliga presence will help to contribute towards the growth of the betting office network and further increase brand awareness of Tipbet.
Phillippos Nakos, Product Manager of Tipbet said, "With Werder Bremen, we have not only acquired a very successful Bundesliga team on our site, but also a well-established European brand. As a betting partner with Werder Bremen, we are striving to increase our reputation. Therefore, we have agreed to an advantageous promotional package. We wish Werder Bremen the utmost success in the Bundesliga and other tournaments."
Yahoo Signs eSports Live Streaming and Content Partnership with ESL
Yahoo is making the news too after signing a two-year distribution and content deal with gaming network Electronic Sports League (ESL), to bring this hobby to mainstream audiences with distribution across Yahoo's properties.
Yahoo will live stream ESL tournaments such as ESL One, and IEM in high-definition around the world. It will also promote ESL content to fans via the Yahoo network. They are also set to collaborate on the development of new eSports tournaments that will be covered and distributed by Yahoo.
Zachary John, Vice President of Yahoo Video and eSports said, "Our Yahoo eSports team is extremely excited to be partnering with ESL to bring greater coverage of its leading eSports events, as well as innovate in new competitive formats and content offerings that we are sure will excite both fans and advertisers alike. Yahoo's unique storytelling, highly talented editorial staff and global scale are a great combination with ESL's experience and leadership in the space."
Yahoo eSports launched in March 2016 and provides global coverage of a number of games including League of Legends (LoL), Counter-Strike: Global Offensive (CS:GO), Dota 2, Street Fighter V, Heroes of the Storm, and more. It also covers major topics and personalities in the industry.
Nik Adams, Senior Vice President of Sales at ESL said, "ESL is in a unique position to be able to offer access to some of the world's best eSports competition, and having a partner like Yahoo eSports means we won't only reach a broader audience with a supreme quality broadcast, but also deliver exclusive editorial content for eSports fans worldwide. Yahoo eSports is a fantastic partner to team up with for the broadcast and coverage of our key events, and we are looking forward to working with them on new and exciting content for our viewers."