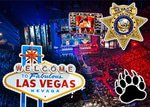 The first eSports wager took place in Las Vegas over the weekend after approval was received from the Nevada Gaming Control Board in relation to betting on sports.
Nevada's first ever legal eSports wager took place in Las Vegas over the weekend. William Hill who has partnered with the Downtown Grand Hotel and Casino obtained permission to accept the first wager from the Nevada Gaming Control Board.
This news is a massive deal and a big milestone for the state with its acceptance of wagers on the Intel Extreme Masters Oakland League of Legends tournament that is coming up. Nevada Governor, Brian Sandoval, has this to say, "This announcement is a major step towards ensuring Nevada becomes the eSports capital of the world. By embracing this unique opportunity and incorporating innovation and technology into our gaming industry, we are expanding the potential of one of our oldest industries."
He also went on to say that, "Representatives from William Hill and Downtown Grand have been active partners with the Gaming Policy Committee as we examined e-sports wagering in the State of Nevada. I would like to congratulate them on this approval and commend both companies for their swift work and determination."
ESPN Sports reported that William Hill will begin accepting wagers on which of the six eSports teams will win and become champions in this two-day event. There will also be matchup wagers available on the two League of Legends quarter-finals.
If betting on sports in Canada is your thing, you will love what eSports has to offer. Gamblers can choose which team they think will win Oakland with different odds available.
Esports Wagering Now Live in Nevada
William Hill received approval to offer wagering on eSports and became the first sportsbook with esports anywhere in Nevada, or the entire United States for that matter. The move to go live with eSports betting is very positive and wagers are now been taken on IEM Oakland eSports event for League of Legends.
It looks like Nevada wants to become the mecca for betting on sports and eSports events and they are one step closer to offering legal wagering on eSports in a regulated market.
Seth Schorr, CEO of Fifth Street Gaming and Chairman of the Downtown Grand said, "It has been an honor and a privilege to work closely with Chairman Burnett and the Governor's Gaming Policy Committee to gain collective support for wagering on eSports. This has been an excellent example of a public/private partnership working together to create a new innovative way of gambling which will have a positive impact on State revenues. We are proud that the Downtown Grand will be the home to the first regulated eSports wager in America. The team at the Downtown Grand has worked hard to establish itself as a truly unique eSports destination."
What's Next For eSports Betting in Las Vegas
William Hill operates 108 race and sportsbooks in Nevada. Gamblers can now bet on the League of Legends event at any of them or by using the William Hill sports betting site within the state of Nevada.
William Hill and the Downtown Grand will be taking wagers for events during MLG Vegas which takes place at the Mandalay Bay Resort & Casino from the 16th to the 18th of December. This event will feature the Call of Duty World League as well as an Overwatch invitational.
At the moment, any sportsbook that wishes to offer wagers on eSports must go through the Nevada Gaming regulators for approval. Eventually, an advisory board will be formed to determine which tournaments and matches will be authorized for betting.