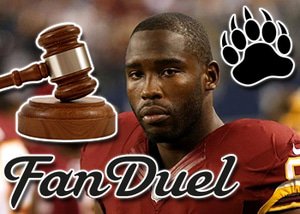 Pierre Garcon a National Football League player has launched a class action suit against the daily fantasy sports operator, Fanduel.
Garcon has accused the site of profiting off himself and a number of other NFL players without any compensation being paid to them in return. Garcon who is a Washington Redskins wide receiver filed the suit in Maryland and has accused FanDuel of having "misappropriated" the names and likenesses of "offensive skilled position" players. He also stated that FanDuel "knowingly and improperly exploits the popularity" of NFL players and he has invited them to join in the class action suit he has filled.
This law suit doesn't mention DraftKings who are the other major Daily Fantasy Sports operator and this is presumably because the NFL Players Association struck a marketing partnership with DraftKings back in September which allows them to use images of NFL players.
It was only last year that we saw Garcon actively promoting FanDuel via his Twitter account and he was also offering people the chance to win free tickets to Redskins games if they signed up with the Daily Fantasy Sports site. This personal involvement came before the team partnership deal that the Redskins signed with FanDuel last November.
Garcon's credibility comes into question again in the statement that his agent released in which it is claimed that FanDuel has "shown increasing revenues leading to large profits" via the unauthorized use of his name/likeness. To date, FanDuel nor DraftKings have posted any profit due to their astronomical player acquisition costs. So where does Garson's claim lie? Case law is actually split when it comes to professional athletes' ownership of their names and images but the use of player statistics for things like box scores has been rules outside the boundaries of copyright law. Most observers of this case do believe that Garcon will have a fight on his hands to prove that he has in fact suffered any damages at the hands of FanDuel.
Position of DFS Could Be Set To Change
It has been suggested by the NFL's chief lobbyist that their opinion that DFS isn't gambling may not be as clear cut as it had seemed. The Huffington Post has quoted Cynthia Hogan, the NFL's senior VP of public policy and government affairs as saying that the league could alter its view depending on the answers to the questions being raised regarding Daily Fantasy Sports' legality by state and federal legislators and law enforcement officials.
The NFL has been rejecting suggestions that DFS is gambling and insisting that it isn't as potentially threatening to the integrity of NFL games as single-game sports betting. But Hogan has acknowledged that "some state [attorneys general], some state legislatures, and Congress may look at" whether DFS is legal and "if the status were to change we would change out view of it."
Sen. Harry Reid has however continued his war against the daily fantasy sports industry continuing to state that it is a part of online gaming and he has gone on to slam the industry's new self-regulating agency saying that it won't provide the "strong oversight" the industry needs to ensure there's no more "corruption from this unregulated, illegal gambling."
Last month, Reid's home stated officially declared that Daily Fantasy Sports were gambling and ordered operators to stop allowing residents in Nevada to take part unless they acquired state gambling licenses. He has also urged other state and federal officials to impose regulations on what he says is "essentially gambling by another name."