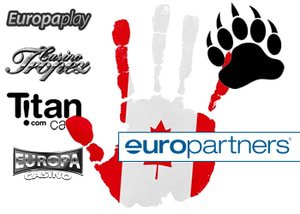 We have just received news that EuroPartners is to exit Canada for a second time. From the 1st of May 2016, these online casinos will stop accepting players from Australia and Canada.
This is the second time that the flagship Playtech operator has announced it's exit from Canada. Euro Partners made its initial decision to exit the Canadian market back in November 2013 around the same time as other publicly traded UK, including Skrill's (Moneybookers) exit from the Canadian market. This decision was reversed although we will probably never know why. Some believe that the company was concerned that Canadian authorities were prepared to target offshore online casinos in Canada and Playtech made a shotgun decision. After some time and likely some hefty legal advice wherein they discovered that Canadian authorities were looking to target operators that accepted Canadian players and hosted operations within Canada, not operators that hosted their operations offshore as Euro Partners' clients did and still so, the decision to exit Canada was reversed. Within a few months, the company launched a new brand to service the Canadian and Australian grey markets.
Today's news has sent a shock to the online gambling world and one has to question the impact of the Panama Papers on this decision. Teddy Sagi, the founder and largest shareholder of Playtech, was identified in connection with 16 offshore companies thanks to the release of the Panama Papers.
The Panama Papers is a global investigation into the sprawling, secretive industry of offshore that the world's rich and powerful use to hide assets and skirt rules by setting up front companies in far-flung jurisdictions. These papers are based on more than 11 million leaked files, and the investigation exposed a cast of characters who were using offshore companies to facilitate bribery, arms deals, tax evasion, financial fraud, and drug trafficking.
How does this affect Euro Partners? In March 2011, Playtech bought PT Turnkey Services (PTTS), the operating company behind Euro Partners from Saga. The recent exposure of Sagi's offshore endeavors could have been enough for Playtech to make the decision to exit some of its only remaining "grey markets", in Canada and Australia.
Make no mistake, this is a serious situation. Playtech is a well-known online casino software developer but they are still dependent on selling licenses for their products to online casino operators. Restricting the locations of where this software can be used could have serious ramifications for their sales and marketing.
Euro Partners is a large affiliate network that encompasses many leading online casino brands and they are once again asking all their affiliates to update their marketing materials to inform people that Canadian players will no longer be accepted in their member casinos. This includes sites such as Europa Casino, Titan Casino, and Casino Tropez. This will come into effect from the 1st of May 2016, after which time all player accounts will be frozen. This means all Canadian players at any of these Playtech casinos will have to close their accounts and find somewhere else to play. If you enjoy Playtech software and their casino games be sure to check out our Playtech casino review where you can find a list of alternative Playtech casinos for your online gambling pleasure.