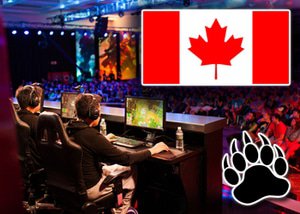 It looks like the eSports and online gambling convergence that is taking place could be about to ignite a massive business boom and Canada could be among the hotbeds of this rapidly growing niche as it hits the mainstream marketplace.
The slogan on one of the eSports websites that takes Bitcoin payments for multi-player, cash-prize tournaments for games such as Counter-Strike, League of Legends, and Minecraft is, "Kill your friends and take their money." It is featured in bold white letters on a black bar and it is proving that eSports really is something to take note of.
Last year, Eilers Research published its white paper, "eSports Betting: It's Real, and Bigger Than You Think", which projected a massive US$250 million in gambling on competitive video gaming in 2015, which would then balloon to a whopping $23 billion by 2020.
Professor Brett Abarbanel of the University of Calfornia's gambling studies stated that eSports and gambling are converging when he attended the BCLC's New Horizons in Responsible Gambling Conference on the 2nd of February. He also went on to say, "These industries are meeting, and they're absolutely exploding. We have multiple gambling variants, we have multiple gaming variants. We have combinations of crossovers: the gaming components are in the gambling games, the gambling components are in the gaming games."
According to the Eilers white paper, "e-sports is an extremely hospitable environment for real-money online wagering."
Betting by the gamer community and the growth of gambling on e-sports is benefiting from the tailwinds that were generated by positive trends for both e-sports and the broader online gambling industry. We are also seeing video gamers emerging from their basements and becoming stars online, at stadium tournaments, and on traditional broadcast networks.
In January, Activision Blizzard (Nasdaq: ATVI) bought Major League Gaming for US$46 million so that they could build the ESPN of e-sports. ESPN also added an e-sports news and scores section to their website last year. Seattle e-sports startup Unikrn has attracted investment from Mark Cuban, owner of the Dallas Mavericks, and from actor Ashton Kutcher. Cineplex (TSX:CGX) also announced the US$10 million purchase of WorldGaming last September and said they plan to invest US$5 million in the creation of a competitive gaming league.
According to Abarbanel, esports bears all the hallmarks of traditional major sports leagues, with ticket sales, event organization, commentary, merchandising, and media sales. The core component is all about entertainment generated by spectating a competition.
United States and China are the biggest arenas for this new e-sports trend, but South Korea and Canada are also hotbeds. E-sports is still a grey area and is an unregulated product that is classed as a game of skill. Even with this being said, some of the players on which wagering are being placed are only "tweens."
Top players in this sport are gaining big profiles and winning millions in championship events such as the International Dota 2 Championships. There are professional teams that all live together and don't do anything else only practice their gaming. They are training in the same way that athletes train for big events.
There are some growing pains though and these range from allegations of performance enhancing drugs to match fixing. There is no single global governing organization for eSports and the gambling components involved could leave it open to potential addiction.
E-sports is exploding and we even saw the University of British Columbia and Simon Fraser University going head-to-head in January on a tournament that was streamed live by Twitch.tv, the Amazon-owned site that shows matches 24/7 in real time.