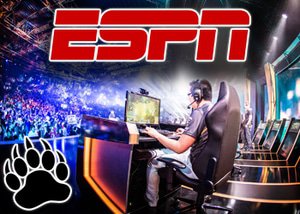 ESPN the global sports news network has expanded into the world of competitive gaming with the launch of their eSports site. This site is dedicated to delivering comprehensive coverage of the world of competitive gaming.
This brand new ESPN eSports site will offer daily coverage of industry news, match results, and profiles for prominent players. It will also contain long-form content that will explore the market's history and the sudden explosive growth of eSports.
The launch of this brand new website marks a significant expansion for ESPN's existing competitive gaming coverage. Before the network only aired live coverage of BlizzCon and the International Dota 2 Championships on ESPN3. They have featured some eSports focused content in their print publications also but this is a huge step and the new site is dedicated to all things eSports.
To help launch their new site, ESPN signed up some industry veterans including former Azubu managing editor Darin Kwilinski, Major League Gaming social media director Rod Breslau, and Team Liquid's Tyler Erzberger.
ESPN.com editor in chief Chad Millman stated that, "the launch - anchored by the influential voices of Darin Kwilinski, Rod Breslau, and Tyler Erzberger - is our latest push to reach and connect with this growing and passionate audience." He went on to say that, "fans will find the same level of quality content and journalism that users of ESPN.com have come to expect, including in-depth looks at the competitive gaming world and on-site reporting from the major tournaments."
The launch of ESPN's dedicated eSports site and their entry into the world of competitive gaming follows a number of recent industry buy-ins from multiple gaming publishers. Electronic Arts launched a dedicated Competitive Gaming Division in December 2015, while publisher Activision Blizzard announced their intention to become the "ESPN of eSports" when they purchased the Major League Gaming platform and network.
eSports coverage has really taken off over the last six months and has even been a focus for cable television networks after its accelerated market growth. Last year Disney XD produced two specials that centered around competitive paly in Nintendo published titles. TBS is going to air full season tournament broadcasts in 2016 for Counter-Strike: Global Offensive. It looks like eSports will be dominating things in 2016 and there will be a lot more to hear from competitive gaming as the months go on.