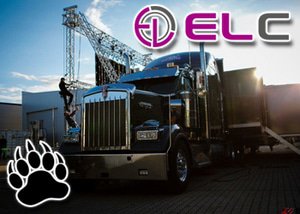 ELC Gaming have unveiled Big Betty, their new mobile eSports entertainment hub which will also be the home of the eSports Legends Cup.
This unveiling is causing quite a stir in the eSports betting industry and it is the brainchild of some very innovative minds, a wealth of broadcasting experience, an in-depth knowledge of poker, a great big truck, and of course a fascination with eSports.
WinMedia's Ian Langstaff said, "When I first saw Late Night Poker on Channel 4 back in 2002, I had a feeling that the game was going to be a hit. Over the past year or so when I looked at the viewership numbers on Twitch streams, I got that same feeling about eSports; and what stands out for me is a lack of traditional broadcasting options."
This feeling seems to be what sowed the seed but how was it going to grow?
Step in Jud Hannigan, the Senior VP for Allied eSports a global eSports property with a goal of connecting eSports fans through a series of strategic brick and mortar venues around the world called The Allied eSports Property Network. In his mind, these venues would host the most riveting and rambunctious eSports battles in the world. To make the vision a reality, Hannigan, and his partners created ELC Gaming; an Irish-based company founded to develop the ELC League.
Allied eSports is the majority shareholder of ELC Gaming.
How does this tie in with poker? Both Hannigan and Langstaff have ties with the World Poker Tour (WPT). WinMedia, Langstaff's company, is responsible for the WPT live stream content, and Hannigan was once the WPT's Director of operations in China. Ourgame International which is the leading online gaming operator in China purchased the WPT in June 2015 for $35 million and Hannigan took up the position of Ourgame's VP of Overseas Operations.
According to Langstaff, "The experience we've built up in broadcasting poker content is one we believe will be an asset to the eSports industry. It's applying the right mix of our broadcast wisdom with cutting-edge eSports knowledge that is going to make us a success."
It seems that Langstaff came up with the idea of Big Betty over a cup of tea, or maybe it was a pint of Guinness. Hannigan was talking about his search for strategic brick and mortar venues around Europe to host the ELC action and Langstaff said he had an idea that would provide Hannigan with loads of venues; a bloody big truck.
Big Betty The Bloody Big eSports Truck
The idea to create Big Betty for use as a mobile sporting broadcast epicentre was not a new one for Langstaff. He had originally pitched the idea to broadcasters when the viewing figures for Darts were starting to rise. No one took to the idea so it was shelved. It seems it was just waiting for the arrival and the rise of eSports betting.
Langstaff pitched his idea to Hannigan who loved it and the race to build the big truck in time for Gamescom began.
Langstaff said, "The biggest challenge we had was time. The idea only came about several months ago, and we set an aggressive target to launch at Gamescom, and we are thrilled that we made it. There are improvements that we had in our sights which will be taking place after Gamescom, but she's on the road, the audiences and Gamescom loved her, and it only continues to get better from here. We've called her Big Betty."
Big Betting is going to be home to the eSports Legends Cup which is being planned for 2017. This truck weighs 31 tonnes, has a 440 hp engine, and is 21.5m long, and 5.2 m high. It is fully equipped with a 12m screen on the root, 6m outdoor display, and 14 other large viewing screens. The truck also houses up to 24 gaming stations, has integrated broadcast and streaming options, concert stage lighting, a state of the art audio system, and a VIP rooftop lounge.
Hannigan has said that Big Betty will also be home to Allied eSports tournaments and Leagues in the future. Beyond that, Big Better will be open for companies in the eSports industry to use at their events and those discussion are underway with interested parties, Hannigan continued.
The eSports truck has already been a big hit and she will be heading the tour that will take place in the fall. Germany is the first destination and Big Betty will be in Holstenhallen in Neumunster from September 30 - October 2 before going to Poznan, Poland on October 21 - 23 for a Poznan Game Arena event. ELC Gaming has 4 -5 tour stops planned for the rest of the year with discussions with several companies ongoing too.