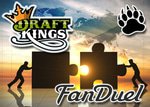 The executives DraftKings and FanDuel, the leading daily fantasy sports operators, are getting together to discuss a potential merger after both companies have endured a year of legal and regulatory disputes.
The merger between the two companies is being seen as a solution to major financial difficulties that have plagued both companies over the past year, but it has been met with some skepticism. What seems to be proving difficult is the decision that comes with any merger, and that is the allocation of the leadership roles and who will become the CEO. Both companies have competed against each other for a number of years and this could be a potential issue if the merger goes ahead.
Another issue to contend with is the fact that the US anti-trust and competition regulators are set to keep the newly merged company under strict surveillance, as both DraftKings and FanDuel hold the top two spots in the daily fantasy sports market where betting on eSports can be done by players from around the world.
As of today, the merger has yet to be confirmed, however, with the growing pressure on both companies to settle their debts, a merger could be the only option remaining.
Betting in eSports Related News
FanDuel and DraftKings are to pay out a massive $12 million for deceptive advertising. Both companies have agreed to pay $6 million each to the New York general attorney's office to settle a lawsuit brought against hem for engaging in deceptive advertising practices.
New York Attorney General Eric T. Schneiderman said, "Today's settlement makes it clear that no company has a right to deceive New Yorkers for its own profit. DraftKings and FanDuel will now be required to operate with greater transparency and disclosure and to permanently end the misrepresentations they made to millions of consumers. This agreement will help ensure that both companies operate honestly and lawfully in the future.
The inquiry that was held found that both companies misled players regarding their chances of gaining a positive return on their wagers when most players would lose money over time. Both companies also misinformed players about the substantial advantages that professional players hold over amateur players through the use of automated computer scripts, algorithms, and complex statistical and game-theory strategies.
Spokeswoman for FanDuel Justine Sacco said, "As previously stated, the negotiations were tough but fair, but we are very pleased to have reached a resolution as this allows us to focus on our busiest time of year with NFL, NHL, and soccer in full swing and NBA season starting tonight."
The settlement has had a major financial impact on both companies it would appear and FanDuel have already ceased the employment of 60 people. Both companies have also admitted that they are in debt to their vendors and the financial impact of all of this could indeed be the deciding factor in the companies agreeing to recommence merger talks.