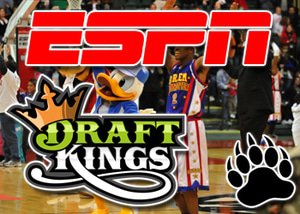 DraftKings is poised to take over an even larger portion of the market now that they will be the only Daily Fantasy Sports league advertised on ESPN.
In July, there was a deal brewing between Disney and DraftKings. The deal would have seen a huge investment worth $250 million into DraftKings in exchange for $500 million in advertising across ESPN channels. Disney owns ESPN, and this deal was set to position DraftKings as the undisputed top dog in the Daily Fantasy Sports league market. However, this deal was pulled at the last minute by Disney executives. This hasn't kept DraftKings from getting a similar deal, however.
Concerns Over Image
The issue that caused Disney executives to pull the plug on the original deal is that they aren't sure they want to be that connected to DraftKings with so much of an investment. The reason for this is that some people in the United States see daily fantasy sports as a form of sports betting. Since Disney is considered a family-friendly company above all else, massively investing in what some would see as a sports betting company isn't necessarily a good idea.
A Deal Comes Through
In spite of that setback, DraftKings has still inked a deal that will have them doing $250 million in advertising on ESPN properties over the next two years. The key part of this deal is that it will be exclusive, and that means competitors like FanDuel will not be able to compete with advertising on any properties owned by ESPN.
The Daily Fantasy Sports Debate
Disney pulling out of the original deal shows a pretty important point when it comes to daily fantasy sports leagues. Public opinion on whether or not fantasy sports is gambling is still out, and any company that backs DraftKings, for example, would be subject to scutiny all the same. This is why it made sense for Disney to pull out of their original investment, however unfortunate that may be for DraftKings. The fact of the matter is that daily fantasy sports are here to stay in the United States, especially with their carve-out in the UIGEA, and they're a viable option for sports fans in Canada as well.