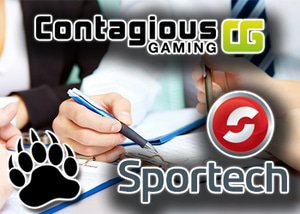 After recent speculation, UK sports gaming company Sportech plc has confirmed that it has received a proposal from Contagious Gaming Inc. and talks of a potential combination have begun.
The combination of Contagious Gaming and Sportech could see the creation of the largest pure-play, sports-focused gaming company on the TSX. This of course will only happen if a deal is possible. Contagious Gaming (TSX:CNS) who are a gaming and software supplier have confirmed that they are in talks to acquire their UK rival Sportech (LON:SPO).
Contagious Gaming who are a Canadian based company have stated that the talks they have entered into are focused around a cash and share offer, which is likely to be higher that Sportech's share price of 62.63p on the 13th of August. Contagious said, "the company expects to create significant shareholder value for existing and potential new shareholders of Sportech and Contagious Gaming." They also went on to say that any deal would be subject to a number of conditions including securing appropriate debt and equity financing. The deal will also include Sportech shareholders receiving approximately half of the net proceeds in the event of a successful VAT repayment claim on the "Spot the Ball" game, with the balance going to Contagious Gaming Group.
Sportech is a large company that has a racing and digital division that supplies pool and tote betting software and services to licensed racing and betting operators. They bought Vernons for £51million from Ladbrokes back in 2007 which added to their Littlewoods and Zetters pools operations to form the Football Pools.
In 2014, Sportech generated revenues that equalled C$213 million and underlying earnings of C$49 million during the 2014 tax year. A combination of these two companies could be used as a way for Sportech to gain a secondary listing on the Toronto Stock Exchange (TSX). For Contagious this would give them the opportunity to become the largest pure play sports-focused technology company on the Toronto Stock Exchange.
The submission of their proposal does not guarantee that Contagious Gaming will make a formal offer or complete the business combination. Contagious Gaming will have until the 11th of September to make a formal bid for Sportech. In the meantime, Sportech shareholders have been advised by the Board to take no action.