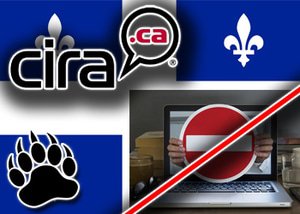 CEO of CIRA, Byron Holland's article claims that it is not a good idea for the Quebec provincial government to start blocking unauthorized online gambling sites in Canada.
An article in the Montreal Gazette by Byron Holland, president and chief executive officer of CIRA (Canadian Internet Registration Authority), states that it isn't wise for the Quebec provincial government to implement their proposed DNS-blocking of unauthorized gambling websites in Canada, especially those that compete with their very own legal gambling site Espacejeux. We spoke about Quebec proposing ISB blocks on Grizzly Gambling at an earlier date. According to Mr. Holland the practice of DNS blocking is not uncommon and Turkey have used it to block social sites such as Twitter and YouTube. It also forms part of China's Great Firewall and it was also at the center of the Stop Online Piracy Act. He also went on to say in his article that DNS blocking raises many social and technical issues.
Earlier this year, in a statement from the government of Quebec, it was stated that they hoped to increase Espacejeux revenues by employing tactics against unauthorized online gambling operators that were competing with their site. These are sites that offer better odds and other incentives for players but are not authorized in Quebec according to the online gambling laws in Quebec.
According to Holland in his article, DNS blocking is rarely effective and it really just makes websites all that more difficult to access. He gives an example of how Canadian people who watch US Netflix known how easy it is to bypass IP blocking. Even doing a simple online search will show hundreds of services that will help people to avoid DNS blocking. He explains that DNS blocking didn't work in Turkey and that it won't work for the Quebec government either.
In his opinion, blocking threatens the freedom of expression from a social point of view and from a technical standpoint, it threatens the security and stability of the internet. He also pointed out that if people living in Quebec want to access other online casinos that allow Canadian players they will find a way to do so. There are plenty of third party services that will allow them to bypass any filters that Quebec put in place. Some of these services are not safe and they can be a security risk for users especially in relation to identity theft.
DNS blocking also breaks a security technology known as SNSSEC that is in place to protect customers that use the internet. DNSSEC adds an end-to-end security layer verifying the integrity and demand for information on the internet, which means that it prevents DNS spoofing and DNS hijacking.
Holland concluded his article by stating that Canada uses the same internet as the rest of the world and that DNS blocking is a step towards fragmenting the internet and undermining it at its very core. He encourages the government of Quebec to think carefully and not punish the internet for the actions of a small number of people. According to him, the results of DNS blocking are not worth the gains that Quebec expects to see especially in relation to the security threats that many customers may face.