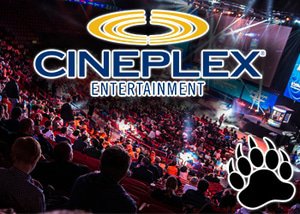 It has just been announced that Cineplex have launched their first national video game tournament in the hopes of capitalizing upon the growing increase of competitive gaming, so as to help fill seats at their countrywide chain of theatres.
The company's launch into the gaming tournament arena is targeted at a younger demographic being lured away from movie theatres by the likes of mobile phones, social media and YouTube. Cineplex spokeswoman Sarah Van Lange states that Esports are rapidly becoming a global phenomenon, and as a company they have invested in it to allow them to engage in this emerging new customer base.
$50,000 In Prizes In One-On-One Game Matchups
The company are offering $50,000 in prizes in special one-on-one matchups for contestants who participate in their "Call of Duty: Black Ops III" game, with the tournament qualifying rounds starting Saturday online. These will be followed by further matchups at their 24 theatres next month, culminating in a special Final Event that will be played out to a live audience on March 6, 2016.
Gaming giant Sony's Canadian office have signed up as the tournaments lead sponsor, and the advent of this competition will take place on their PlayStation 4 gaming console. Competitive gaming which is also known as eSports has developed into a huge market in overseas places such as Japan and South Korea. Some game matches based on popular games like Starcraft even sell out entire stadiums, such is their popularity.
In 2015, the global eSports industry was worth in the region of US$748 million going by estimates supplied by SuperData Research. In fact the total audience of some of these events, for example the "League of Legends" World Championship, peaks at tens of millions, however questions still remain about its revenue pulling potential for Cineplex.
BMO analyst Tim Casey whilst conceding there appears to be a lot of gamers out there, still claims it's an unproven business model for Canada, not that this seems to deter Cineplex who in September 2015, announced their purchase of eSports platform WorldGaming for US$10 million. They are obviously looking beyond movies to capitalize upon their theatre chain to balance out the Boom & Bust, Hot and Cold cycle, of Hollywood Blockbusters.
Advertising & Sponsorships accounted for over three quarters of 2015 eSports revenues according to SuperData, whether the business model will prevail in Canada remains to be seen. It should be an interesting watch at least, as this new event series gets ready to take center stage.