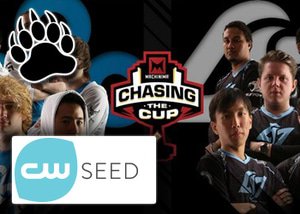 For the very first time in CW history, they are partnering up with the digital network Machinima, so they may bring their web docuseries "Chasing The Cup" to broadcast TV, and their digital platforms.
An "Interesting Opportunity" Enthuses CW Executive Vice President
Rick Haskins, the Executive VP of Marketing and Digital Programs for CW, said it presented an interesting opportunity for the company and could also be an interesting model where they do a pre-game on digital, and then move the actual event to a live broadcast. "We can move people back and forth within our ecosystem," he stated.
"Chasing The Cup" follows competitive gaming contestants as they vie for a place in this eSports championship. The impending third season will concentrate on "Mortal Kombat X" players who are bidding to win the ESL "Mortal Kombat X" Pro League Finals. The third season's first four episodes will air on the network's digital platform, CW Seed, and will climax with a one-hour special finale, that will air on February 15, 2016 at 8pm on The CW.
The original idea to bring an eSports competitive series to The CW germinated almost 2 years ago says Rick Haskins. Through internal research they established that their network viewership who watched shows such as " Arrow", "iZombie" and "The Flash" were up to 300 percent more likely than other average viewers to have a fascination with eSports. Daniel Tibbets Chief Content Officer for Machinima, inferred that if great characters have already been established, it sets the stage for great game-play to follow, and a great format that translates well to TV.
As "Chasing The Cup" edges nearer Lewis Ward the Research Director for International Data Corporation, projects that there should be over 200 million regular eSports viewers online by 2019, with this figure being twice that for 2014. He is convinced that the CW deal will be an interesting experiment that could open doors to a larger opportunity in just a few short years.
Ward said it was unlikely to become a ratings juggernaut for CW, noting that the You Tube series only attracted around 300,000 viewers. Also he pointed out that Mortal Kombat X is rather violent and graphic, so could become controversial amongst some parents. Regardless overall he was predominently upbeat stating that it was a smart move on behalf of the network to start programming eSports content, particularly so in the way the gaming resonates with the teen sector and young adults.