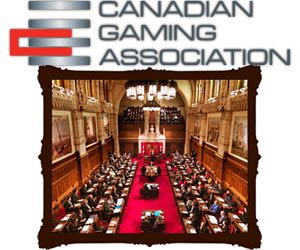 A simple measure in the Senate could have stopped millions of dollars worth of Canadian bets on the Super Bowl, and the CGA isn't happy about it.
Sports betting is the only type of betting with specific rules on a federal level in Canada. While all other forms of betting are made illegal with the caveat that the provinces can run their own games, sports betting can only be handled this way on parlay bets with three or more individual sporting events.
What this means for the Super Bowl this past weekend is that it wasn't legal to place a bet on the big game from anywhere in Canada. But that's not going to keep people from betting on one of the biggest single sporting events in the world, and the Canadian Gaming Association used this opportunity to completely blast the Senate for not passing Bill C290, a simple measure that would make it legal to place bets on one (or two) individual sporting events at a time.
There have been a number of examples of illegal sports betting activities in Canada being tied to organized crime in the past few years. Already in 2015, a police officer from Montreal was arrested for illegal gambling and involvement in organized crime, and the notorious biker gang the Hell's Angels were tied to a massive bust in 2013 for the Super Bowl with the infamous Platinum Sportsbook. The point is that players are going to bet whether the government wants them to or not, and it doesn't make sense to force them into illegal avenues when it's the only type of gaming that the provinces can't offer.
It's hard to find a logical reason why Canadian law prohibits wagering on a single sporting event. The law hasn't been updated since the 1960s, so it's possible that it's tied to some kind of issue with fighting organized crime that was rampant during that era. The landscape has changed completely with the popularity of gambling legally on the Internet, however, and lawmakers need to wake up and do what needs to be done to protect their players.