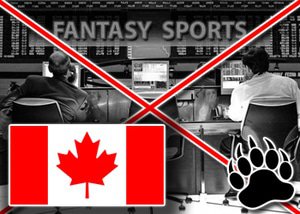 It looks like the daily fantasy sports industry is fighting for survival. There are now 7 US states taking action against sites such as FanDuel and Drafkings, stating that they are an unlawful form of gambling. Could Canada be next?
At the moment, in Canada, it is business as usual for daily fantasy sports websites and those who like to place wagers on the fantasy lineups of pro athletes can do so and be assured that it is legal gambling. Government and law enforcement agencies in Canada have shown little interest in cracking down on these sites.
You may not be a fan but we are sure you know about daily fantasy sports because of the aggressive marketing strategies of the FanDuel and DraftKings websites. These are both US based sites and they currently dominate the industry and have been frowned upon for relentlessly promoting their product through the use of TV commercials, rink board ads, and they even had sponsored segments on at least one all-sports network.
Daily Fantasy Sports allows fans to act as managers. They get to select their own roster of professional players in a range of sports all of whom will be competing on the same day. These sports include NFL football, NHL hockey, mixed martial arts, pro soccer, and more. The fantasy rosters created are then paired up in head-to-head competition against other managers and the players' real in-game statistics from that day determine the winners each day.
The fun and excitement begins afresh the next day with new rosters being created and other managers to compete against.
It sounds like harmless fun but what is making daily fantasy sports a topic of controversy is the entry fees that these sites collect and the cash prizes that they pay out to winners. These can range from small pocket change amounts to tens of thousands of dollars.
DraftKings has already boasted that they have paid out more than $1 billion in cash and prizes in the past year. Their rival, FanDuel, claims to have more than 1 million active players around the world, and that they are backed by more than $360 million in investor funding. A representative for the company couldn't say how many Canadian users the site has but they did say that Canadians are much more likely to play daily fantasy hockey.
Sports Betting
Daily Fantasy sports are very popular and there seems to be a lot of arguments coming from the legal and gambling industry on the state of this sport with many claiming that it is essentially sportsbetting. Wagers are being placed on individual player performances rather than the outcome of a game.
According to Paul Burns of the Canadian Gaming Association, DFS is believed to be a gaming product because of how the Criminal Code defines a gambling product in Canada.
Section 197 of the Criminal Codes defines a "game" as one of "chance or mixed chance and skill".
Legal scholars have argued that because that definition doesn't reference games of pure skill, it implies that they aren't subject to the code's gambling provisions. This is also the reason why DFS sites have been insisting that their product is a pure game of skill.
There are those that disagree and say that player performance is only predictable up to a point. Burns said, "while there may be some skill in building your roster, there is still a large element of chance. Someone could break a leg, the power could go out, someone's girlfriend could dump them 10 minutes before tipoff."
U.S. Cracks Down on Daily Fantasy Sports
In the U.S., there are ongoing legal battles over DFS. The skill versus mixed skill and chance distinction is at the heart of these battles. Last October, Nevada became the first state to restrict daily fantasy sports, ordering sites to stop until they secure state gambling licenses.
Soon after this, New York's attorney general, Eric Schneiderma, began looking into allegations that industry employees were using inside information to win daily contests. The investigation also alleged that the DFS industry ads tempting players with six figure payouts were misleading, and that just one percent of players take home most of the prizes.
In a statement in November 2015, Schneiderman wrote, "Daily Fantasy sports is neither victimless nor harmless, and it is clear that DraftKings and FanDuel are the leaders of a massive, multibillion-dollar scheme intended to evade the law and fleece sports fans across the country."
Daily Fantasy sports have also been made illegal in Illinois, Texas, and Hawaii. Other states are also considering steps to regulate or ban daily fantasy sports and these include Washington, Florida, and Massachusetts.
Enforcement Priorities in Canada
In Canada things are different and according to Michael Lipton, a lawyer and gaming law expert with Dickinson Wright law firm in Toronto, "Authorities are more focused on anti-terrorism, drugs, and biker gang, and they should be. He went on to say that Canada has always had a fairly liberal attitude regarding matters of this nature and historically authorities have only shown an interested in going after companies with servers inside Canada, which DraftKings and FanDuel do not.
He also said that provincial attorneys general, as well as provincial lottery corporations and local law enforcement agencies need to prioritize their workload and daily fantasy sports hasn't warranted further action, yet.
There were a number of questions he posed such as, does one have the resources? Is the public being harmed? Is there an issue that the public needs protecting from?
In 2015, the Canadian Gaming Authority commissioned a legal opinion from a former general counsel for the Alcohol and Gaming Commission of Ontario. The report argued that DFS constituted illegal gaming, and should be regulated in Canada.
Burns stated that this report was shared with law enforcement agencies, but he doesn't know if it will influence authorities to take action. He said, "We've put it out there. Whether or not anyone chooses to do anything, it's not up to us."
What will happen with DFS in Canada, no one really knows as yet, but it will be interesting to see what transpires over the coming year.